 Motorsport artist Dexter Brown transforms car into piece of art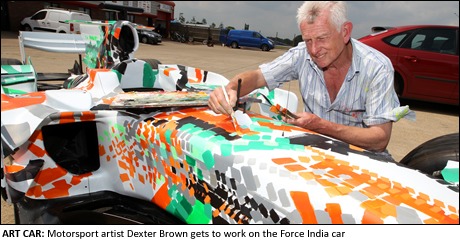 IT is often said that a Formula One car is a work of art in itself. But in the case of Force India's Art Car, those words have never been more true.
The Silverstone-based squad has teamed up with renowned motorsport artist, Dexter Brown, to use one of its cars as the canvas for his latest creation.
The end result is the first Formula One Art Car painted by hand, which will be auctioned off to raise funds for charity later this year.
Mr Brown has transformed Force India's VJM01-05 car which driver Giancarlo Fisichella drove in 16 races during the 2008 Formula One season.
The car has been displayed at several high-profile events in the lead up to Sunday's British Grand Prix.
Guests of the F1 Ball at London's Natural History Museum were given a sneak preview of the car earlier this week with an official presentation to take place at Force India's post-race party on Sunday.
Formula One drivers and motorsport legends are also being invited to sign the Art Car.
Dr. Vijay Mallya, owner of Force India, says: "Seeing one of my Formula One cars transformed into a painting is a wonderful initiative that combines two of my greatest passions: cars and art. I wish to thank Dexter for producing this exquisite piece of work, which I am sure will be of great interest to art collectors around the world, and will raise valuable funds for charity."
The Art Car will be auctioned later this year after the inaugural Indian Grand Prix in October. The funds raised will be split between Great Ormond Street Hospital for Children and Force India's Academy giving youngsters in India the chance to get involved in motorsport.