 He was obvious choice, says Imran Khan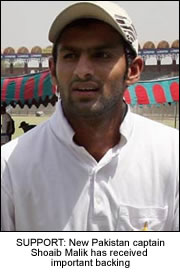 PAKISTAN'S choice for the team's captain may have raised more then a few eyebrows but Shoaib Malik has received the backing from former great Imran Khan.
The 25-year-old was appointed captain after Inzamam-ul-Haq stepped down following the team's exit from the World Cup.
Vice-captain Younis Khan publicly refused the job while top-order batsman Mohammed Yousuf said, if offered, he would gladly take the post.
But the Pakistan Cricket Board opted for youth and gave the job to Malik who made his debut for the international side in 1999.
"The Pakistan Cricket Board (PCB) had no option but to appoint Shoaib Malik as captain, said Imran Khan, who led Pakistan to World Cup glory in 1992.
"It is up to Malik now to lift his game and first cement his place as a batsman and command respect from the players," Imran told AFP.
"It will largely depend on how he performs under pressure, because captaincy pressure sometimes can bring the best out of a player but some players will simply capitulate.
"He does seem to have a cricket brain. "He looks like a team man."
Malik himself said he had no hesitation in accepting the post when offered by PCB chairman Nasim Ashraf.
" "I am ready. I may not have had much experience domestically of leading sides but I have learnt a lot under Inzamam's time", he said.
"He spoke to me regularly when he was captain and I kept picking things up from him.
"I had been sounded out about it a couple of times recently. But as soon as the offer was made, I said yes straightaway. It's such a big honour and to lead Pakistan through difficult times is such a big challenge. I am going to give it my best shot and that is all I can do."
Malik will lead his team out as captain in June when they will compete for the Afro Asia Cup in India.