On the hunt for a decent Curry or Mixed Grill, then one to definitely check out is the Railway Inn near Oldbury Town Centre. A pub that has been around for a while serves up great Tandoori Chicken, succulent Kebabs and mouth watering Fish Pakoras.
Located right opposite Sandwell and Dudley Station with express trains running in and out of Birmingham New Street Station and also with trains running into Wolverhampton City Centre from the other platform, this is an ideal stop to fuel up before a night out in the City. It is also located not far from Oldbury Bus Station and a short distance from West Bromwich, so an ideal location to meet friends for a catch up over a pint and a curry.
A small traditional pub that has been transformed into more of a Desi Bar and Grill with a pool table and saloon style seating, serving traditional ales and craft beers also a selection of spirits. But it is the menu that gives it the edge you won't just find a pack of dry roast nuts here but a variety of grills and curries and reasonably priced. They provide sauces by the bottle, so you can have as much mint chutney as you like with your meal.
Would definitely recommend the mixed grill with some green chillies on the side if you're feeling adventurous. But an all round decent Desi Bar and Grill.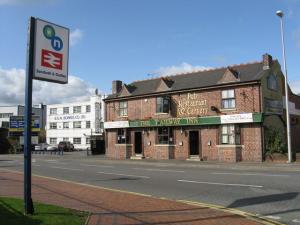 Railway Inn
96 Bromford Ln,
West Bromwich
B70 7JB