 Andrew Smith jailed for life for murder of Nitu Das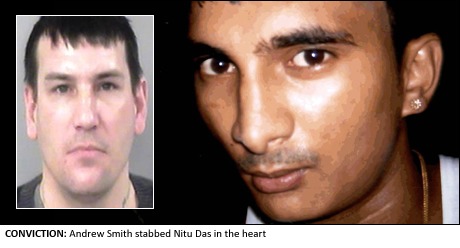 THE father of a Leicester man who was stabbed to death has paid tribute to officers who helped bring his son's killer to justice.  
Jantu Das praised officers from Leicestershire Constabulary for their "hard work" in bringing killer Andrew Smith to justice.
Smith was jailed for life at Coventry Crown Court after being found guilty of the murder of 23-year-old Nitu Babu Das.
The court heard how Smith had chased Nitu before stabbing him in the heart following an altercation outside a property in Loughborough last July.
Smith, 39, was sentenced to serve a minimum of 22 years.  
A further defendant was acquitted of Nitu's murder and perverting the course of justice.
Following the verdict Nitu's father Jantu said the conviction would help his family move forward following a double tragedy which saw their other son, Rajdeep Das, 20, die in a car crash on the M6 last October.
In a statement he said: "Throughout the trial it has been a stressful and difficult time for us. We are very pleased with the conviction and hope that now we will be able to move forward as a family.
"We would like to thank the police in particular for all their hard work throughout the investigation. They have been very supportive to us as have Victim Support.
"The local community have also been helpful in offering and giving their assistance to our family."
Detective Chief Inspector Neil Castle, who led the investigation team, paid tribute to Nitu's family and the investigation team who worked on the enquiry.
He said: "They have been needlessly robbed of any kind of future with him and nothing will ever be the same for them. Nitu's murder has had a devastating impact on his family and they have had to go through the further ordeal of losing their other son, Raj, some three months later in a road traffic collision.
"I know that this has been difficult for Nitu's family to sit through but we hope that today's result will help them to move forward. I'd like to thank them personally for all the assistance they gave us throughout the investigation and also the support the local Muslim and Hindu communities provided to the family and the police.