 Shoaib Mansoor's hard-hitting 'Bol' to hit the big screen in August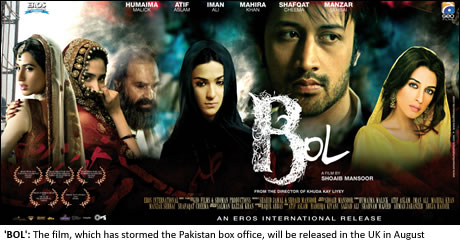 A NEW film which explores the rights of women and treads no-go areas like homosexuality in Pakistan is set for an Eid release in the UK.
Shoaib Mansoor's 'Bol' stormed the Pakistani box office when it was released last month beating opening day records set by high-profile Bollywood films 'My Name is Khan' and 'Ready'.
The hard hitting social drama tells the story of a girl who stands up and challenges the age old societal norms of treating women as lesser beings.
The movie stars renowned Pakistani actress Humaima Malick in the lead and singing sensation Atif Aslam and Iman Ali along with many other renowned Pakistani actors.
The film has already received rave reviews across Pakistan, and director Shoaib Mansoor is passionate about the issues in the film.
"Having been so blessed in life, I often think of the things that I should be grateful for. The list always seems to be never ending, but invariably it ends at one thing…that I was born a man," he says.
"Nothing in the world scares me more than the thought of being born a woman or a eunuch in a country like Pakistan, where obscurantism has deep roots. It is very unfortunate that we make tall claims, full of pride, about the rights of women granted by our religion and yet when I look around in underdeveloped Muslim countries in general and Pakistan in particular, I find things totally the opposite.
"Tragically, our interpretation and application of religion seem to begin and end with women. Leave the 5 per cent urban educated elite aside, women seem to be the playground where we practice a medieval form of religion," he adds.
'Bol' is slated for an Eid release on 31st August 2011