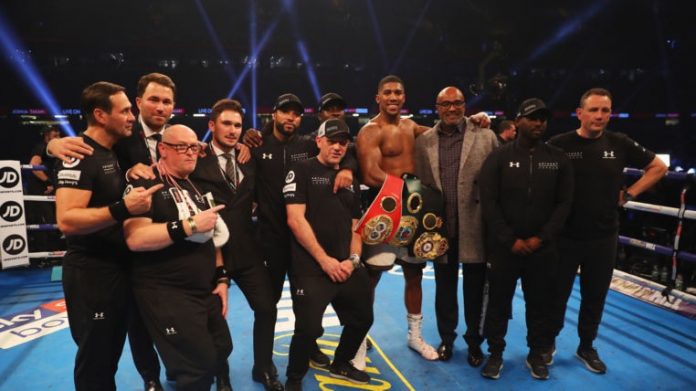 Anthony Joshua insists he is focused on keeping his belts "by any means" following his 10th-round stoppage win against Carlos Takam.
The 28-year old WBA super and IBF world heavyweight champion suffered a damaged nose during the bout before breaking down the tough Frenchman for a 20th-consecutive knockout victory at the Principality Stadium in Cardiff.
Promoter Eddie Hearn says he plans to put in place three fights for Joshua next year, but the unbeaten boxer is more fixed on a long-term strategy as he embarks on ruling the division for the next 10 years.
"I'm just focusing on keeping my belts by any means," said Joshua following his win over Takam.
"I think the WBA have a mandatory in place, so my next three fights could be an obligation I have to fill if I want to keep the belts.
"In my mind I'm just focusing on keeping my belts and getting better from here and winning and winning.
"It's not about the 21st fight or the 22nd fight, it's about 15 fights from here – 10 years, 15 years you know.
"I'm not just worried about my next three fights, I've just got to plan the long-term strategy with Rob and Eddie."
Hearn said, "It's up to what Anthony what's to do."
"He can box in any territory he wants but I think right now it's about mapping the year rather than just the next one.
"Every show is iconic. Every show there are images and footage that go back to people around the world and we should be very proud of what they're watching because I don't think it's been done before.
"AJ has always wanted to put on shows in and out of the ring. There isn't a show like an Anthony Joshua show, there just isn't in world boxing anymore."