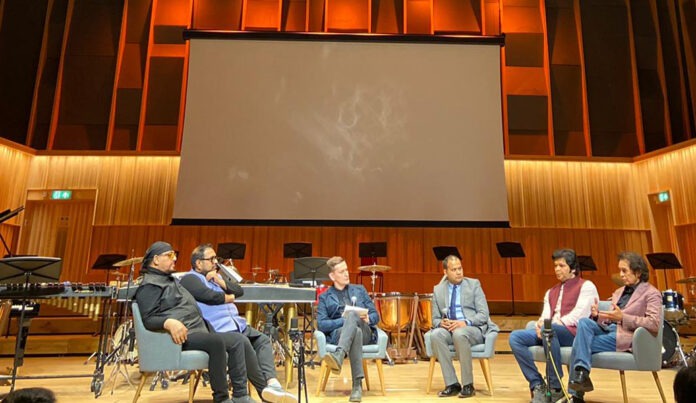 Ties between British and Indian musicians were boosted this week with a visit by four classical music superstars to the UK's Royal Birmingham Conservatoire.
Tabla supremo Zakir Hussain told an assembled audience of staff, students, diplomats, MPs and business leaders including the Indian Consul General of India Dr Shashank Vikram and Preet Kaur Gill MP at the world-renowned centre of music, based at Birmingham City University, that 'music has the power to change your life in a way you couldn't even imagine'.
Acclaimed singer-composer Shankar Mahadevan, leading flautist Rakesh Chaurasia, and legendary keyboardist and producer Louiz Banks joined the superstar for the visit.
Organised by BCU India and West Midlands India Partnership, the event saw the artists – who are known to hundreds of millions of fans in their home country and across the globe – share advice and stories with a captivated audience in the Conservatoire's Bradshaw Hall, before enjoying performances from RBC percussion and brass students.
Musical links between the UK and India were explored between the VIPs and senior leaders of the University, and the artists posed for photos with senior music students on stage after the event.
Dr Shirley Thompson, Interim Principal of Royal Birmingham Conservatoire, said, "We were thrilled to welcome Zakir, Shankar, Rakesh, Louiz and guests, share in their passion, joy and enthusiasm for music with students, staff, partners, and supporters, and present some of the outstanding talent on offer at the Conservatoire to all.
"International students play an incredibly important part in RBC and across BCU, and our school and University and strengthening connections with artists and creative partners from across the world helps us to create a truly diverse community with many musical cultures at its heart.""
Zakir Hussain, who alongside his late father Ustad Alla Rakha was largely responsible for popularising the tabla with Western audiences throughout the 1970s and 1980s, is a virtuoso musician who gave his first concert at the age of seven and was touring with the late sitar maestro Ravi Shankar in the US at 11 years old.
The musician has also recorded and performed with many notable Western musicians including George Harrison, Van Morrison, Mickey Hart of the Grateful Dead, Herbie Hancock, and John McLaughlin in the great acoustic group Shakti.
Shyam Naban, Director of the West Midlands India Partnership, part of the team who organised the visit, said "We're delighted to support the development of cultural and artistic links between the West Midlands region and India through interactions with global Indian maestros like Ustad Zakir Hussain, Padmashri Shankar Mahadevan, Jazz King Louis Banks and Rakesh Chaurasia. We will continue to connect our board members with esteemed organisations in India as a part of our strategy to enhance relations as we celebrate the Birmingham 2022 Commonwealth Games and 'India at 75' this year.
As a composer, Zakir Hussain has scored music for numerous feature films, major events and productions. He has composed three concertos, and his third, the first-ever concerto for tabla and orchestra, was premiered in India in September, 2015.
Birmingham City University PhD candidate and audience member Jaspreet Singh said, "It was such a great experience to finally meet the Zakir Hussain. As a child I use to read about him in our general knowledge book. Being Kirtania – a person who sings holy hymns and who plays a traditional string instrument, it was very inspiring to meet and have a conversation with the best tabla player on the planet."