 Political tensions worry Aussies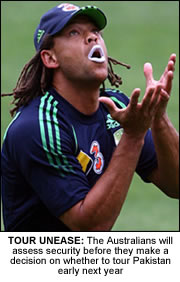 REMARKS by Australian bowler Andrew Symonds have cast doubt over their tour of Pakistan next year.
Symonds said current political tensions in Pakistan mean the team may have to rethink their first tour of the country since 1999.
"There do seem to be a lot of bombs going off over there. At the end of the day it is only a game of cricket," Symonds said.
"But I suppose, being the diplomat that I am, we are going to have to wait and see when we get closer to the time how many bombs are going off over there. But it is being bombed."
But Pakistan coach and former Australian bowler Geoff Lawson said the Australians had no reason to worry.
"The most fascinating part of it for me is that most people in this part of the world seem pretty much untroubled by what is going on," Lawson told the Sydney Herald. "Cricket, in particular, is the great untouchable of the subcontinent. Certainly, that's the way of it in Pakistan. I'm very comfortable."
Australia are due to tour Pakistan in February next year for the first time since 1999.
Previous tours were moved to neutral venues in Sri Lanka and Sharjah due to security concerns.