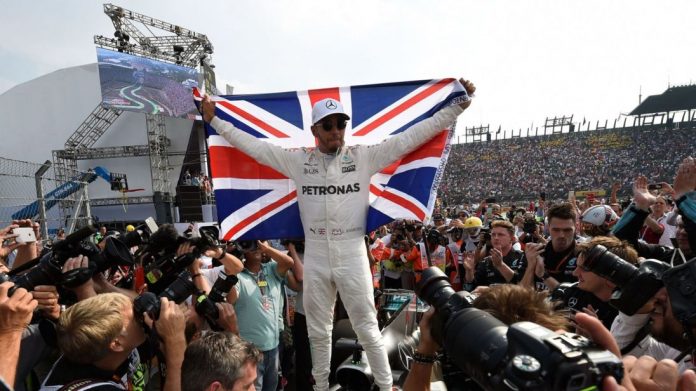 Lewis Hamilton has been crowned Formula 1 world champion for a fourth time.
The 32-year-old was hit by title rival Sebastian Vettel on the opening lap of the Mexican GP but secured the championship after fighting back into the points while the German driver only finished fourth.
"It doesn't feel real," said Hamilton.
"I'm really happy with this fourth. I'm going to have to take some time to really think about it but I'm proud of the flag and everyone who represents it."
Hamilton's victory makes him the most successful British driver in Formula 1 history. On the all-time rankings, the title draws him level with Vettel and Alain Prost.
Asked about the early collision with Ferrari driver Vettel, Hamilton said, "I don't think I was too aggressive. I put my car in the perfect position and I left a lot of space for the car behind."
But the pair later warmly embraced in the paddock as Vettel congratulated the Mercedes driver as a deserved champion.
"Lewis has done a superb job all year round and deserves to win the title," said Vettel, 30.
Hamilton and Vettel were forced to pit at the end of the first lap but Hamilton emerged a further 30 seconds behind the Ferrari and facing a long afternoon fighting back into the top ten.
"It was a horrible way to do it, to be honest," Hamilton said. "I had no idea what was going to happen to the championship."
"I hope those that are watching are happy with this year's result and I'll continue to rise it as high as I can."