 Debut Performance at Birmingham's Symphony Hall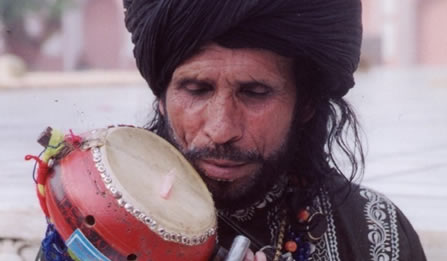 World-renowned Sufi musician embodies the cultural wealth and soul of Pakistan's popular street culture for one night only.
Born and raised in a rural peasant family, Zahoor performed for decades and honed his craft at holy shrines in his native Ojara district of Pakistan. Now, internationally recognised as a leading Sufi street musician, he brings his vibrancy and energy to Birmingham's Symphony Hall for an exclusive performance on Wednesday 30th September, produced and managed by Asian Arts Agency.
Singing into his three-stringed 'Tumbi', Zahoor will be accompanied by a five-piece ensemble of flute, harmonium, tabla and dholas drums in a performance which will be rich in culture and Islamic tradition.
Now 78, Zahoor started singing at the age of 5 and left home when he was 10, he roamed the Sufi shrines of Sindh, Punjab, making a living through singing kalams.  Sacred scriptures of Islam, kalams are sung with passion and power intended to give the listener an opportunity to experience the mysteries of God.
Speaking of his experience, Sain said, "I dreamt of a hand calling me to Baba Bulle Shah's dargah ('shrine'). There I met Ustad Sain Raunka Ali of Patiala and my first lessons in the Sufi kalams were under his guidance."
Zahoor's high-energy singing style possesses raw, earthy tones capable of a wide vocal range. Paired with rapturous dance, colourful tassels, beads and asghungroos (anklet-bells), his performances are emotionally charged and intensely exhilarating. 
From humble beginnings, he was discovered by a presenter from Pakistan TV, and in 1989 he was invited to the All Pakistan Music Conference to give his first ever performance on a concert stage.
Without a manager or record deal, Zahoor then went onto win a BBC World Music Award in 2006 based entirely on word-of-mouth interest. He has since gone on to release a number of albums, contributed to film soundtracks and performed at international world-class venues.
Richard Hawley, Head of Artistic Programming at Town Hall Symphony Hall, said, "We're delighted to welcome Sain Zahoor to Birmingham for this very special performance at Symphony Hall. Seeing him perform will be an incredible experience, not only for existing fans, but also for new audiences."
Sain Zahoor will be performing at Symphony Hall on Wednesday 30th September from 8.30pm.