 Entertainment icon Shiamak Davar honoured with Middlesex University doctorate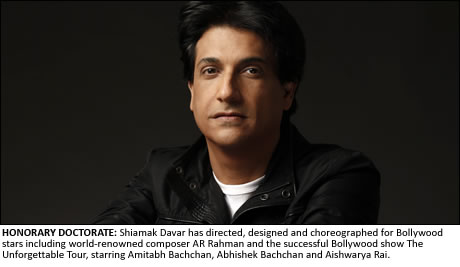 ONE of the world's leading choreographer's is to receive an honorary doctorate from Middlesex University.
Shiamak Davar is famous for pioneering contemporary dance which brings together Indian and Western styles.
He has directed, designed and choreographed for Bollywood stars including world-renowned composer AR Rahman and the successful Bollywood show The Unforgettable Tour, starring Amitabh Bachchan, Abhishek Bachchan and Aishwarya Rai.
Work seen on a global scale also includes his role as director for the ceremonies of the Commonwealth Games in Melbourne and Delhi.
Mr Davar has also appeared on Indian television dance reality shows Dance ke Superstars and Dance Premier League and as a celebrity guest judge on India's Got Talent.
Middlesex University said they were honouring Mr Davar in recognition of his "contribution to entertainment in India and throughout the world."
Speaking about the honour Mr Davar said: "I am truly honoured to receive the award of Doctor of the University from Middlesex University. My parents, both pioneers in the field of education, imbibed the importance of education in me. I am blessed to be able to continue their legacy as a dance educationist. I started my journey in the field of performing arts in the UK and receiving this honour completes this circle. With my mission to educate, entertain and empower people, this acknowledgement reinforces my belief…..Have feet, will dance. Have spirit, will triumph."
Middlesex University Vice-Chancellor Michael Driscoll added: "Middlesex is an international university so we are thrilled to honour a truly international entertainer. We have a strong relationship with India that's growing all the time and welcoming a talent like Shiamak to our graduation ceremony will inspire the next generation of performers and artists both in India and here in London."
Mr Davar's award is made as part of the University's annual graduation celebrations, with honorary degrees presented to people who have made an outstanding contribution to their profession or the community. Other well known figures receiving Middlesex honorary doctorates this year include former international cricketer Phil Tufnell and human rights advocate Shami Chakrabarti.
Middlesex University has a long standing commitment to providing higher education in India and celebrating Indian talent. Current projects include a new Middlesex University centre opening in Noida this year, a partnership with A. R. Rahman's KM Music Conservatory in Chennai and a specialist creative arts centre in southern Delhi.