 New move following latest attack on Dudley driver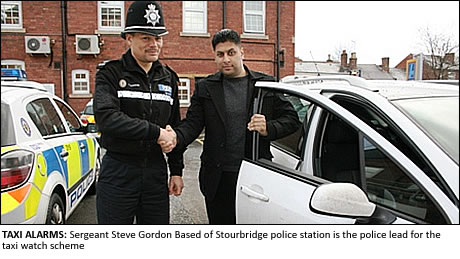 TAXI DRIVERS operating across Dudley have been issued with personal attack alarms.
The move, by the Dudley borough Taxi Watch forum, comes as a private hire driver was robbed of his mobile phone and cash as he dropped off three passengers in Cradley on Sunday morning.
The initiative has been funded by Dudley local authorities to improve taxi driver safety.
Sergeant Steve Gordon Based of Stourbridge police station is the police lead for the taxi watch, he said; "We have been working alongside Dudley's private hire taxi association for some time now and it is clear to see improvements to the trade.
"Taxi drivers and police are working together to put in place solid foundations to increasing awareness of the importance of customers booking and clarifying a rate for the journey. This has had a positive influence and the number of reported disputes between taxi drivers and customers has dramatically reduced."
Dudley police have been working closely with the taxi association for the past year and ongoing improvements are continually being made to the wellbeing of legally registered taxi drivers.
"There will continue to be a positive working relationship between the police and taxi association, so that of taxi watch and the safety of drivers can only get better"; added Sergeant Gordon.
In the recent incident, the 54-year-old driver stopped on Teme Road in Cradley at around 7.30am on Sunday 10 July. The three passengers had been picked up from the Digbeth area of Birmingham at 7am.
The three men threatened the driver and made him hand over cash and his mobile phone before running off down an alleyway.
One of the men was described as black and the other two are believed to have been of mixed race. All were in their early to mid 20s and wore hooded tops. The black male had mid-length dreadlock hair.
Shaz Saleem, Chairman of Dudley private hire and taxi association and member of Dudley's Taxi Watch said; "The work undertaken by taxi drivers can be very difficult and at times they can be vulnerable.
"We are very pleased to have ongoing support from the police and council in launching driver watch, which I'm sure, will improve the safety of drivers across Dudley borough.
"I would personally like to thank the police and the council for working with us in launching driver watch and I look forward to continuing our partnership"
For more information on taxi watch you can contact police lead Sergeant Steve Gordon on 0345 113 5000.
Any witnesses to Sunday's robbery are urged to call Dudley CID at Brierley Hill police station on 0345 113 5000 or speak to Crimestoppers anonymously on 0800 555 111.