 Actor-come- ballroom dancer talks to Zeenat Moosa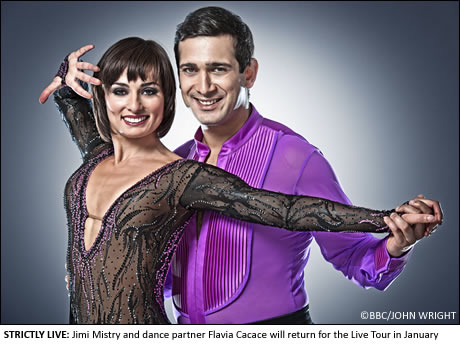 BETTER known for his roles in East is East and the Love Guru, Jimi Mistry seems to have taken somewhat of a dramatic career change.
These days you'll probably find the 37-year-old practicing the rumba following his stint on the hit BBC show Strictly Come Dancing. Despite getting the boot in week seven, fans eager to see him dance again will see him return to action for the forthcoming Strictly Come Dancing Tour Live
Jimi spoke to Asian Today reporter Zeenat Moosa about his time on the show and the all-important live tour set to hit our cities next month…
So, firstly well done for your performances on Strictly – tell us about your experience on the show?
Well I have to say that I had the time of my life on the show.  
I've always wanted to perform since I was a little kid but hadn't done anything like this before.  We were training up to 6 hours a day, 6 days a week it was great to be able to be active all of the time and to learning something new. I've never been as fit as I was doing the show and am now trying to keep the pounds off.  The Saturday live shows were also quite an experience, I don't think I have felt nerves like it but the key was to turn your fear into positive energy and go out there and enjoy yourself, which I did…most of the time! Overall it was definitely an experience I will remember for a long time to come.
Did you always see yourself as a good dancer?
I always have loved dancing since I was a young boy.  I grew up loving Michael Jackson and was a bit of a breakdancer back in the day!  Even today I've always loved going out and dancing at parties and clubs but had never had the opportunity to learn something as disciplined as ballroom and Latin.  There was no doubt that I had the enthusiasm to do it, it was just whether I would be able harness the technique of this style of dance and be able to enjoy myself, which I like to think I did.
You seemed to have great on screen chemistry with your dance partner Flavia Cacace. Was the same off screen too?
Flavia was a fantastic teacher and we got on very well. It's quite a job for the pro dancers to get the celebrities to learn the dances in a very short space of time not to mention to go out and perform them live on national TV.  We worked together brilliantly and as I said I had the best time, I'm very proud of what we achieved and think we will remain great friends in the future.
What would you say was your favourite dance on Strictly?
I loved all the dances we did but I think my favourite had to be the Paso Doble which we performed to Thriller.  It was a great moment for me to be dancing to one of my all time favourite songs and what with all the make-up and fabulous staging it was a night to remember…not to mention those eyes!
And your worst dance?
I can honestly say that I didn't have a dance I didn't enjoy or like.  I think when the competition started I thought I would have the most trouble with the ballroom dances but the two that we did ended up being the best two scores that we achieved.  I love the ballroom and was disappointed not to have done more; I think we would have scored well.
What was your most memorable moment from the show?
I think the launch show was very memorable, it was the first time that we all had a taste of what was to come and there was a real sense of nervous excitement throughout the group.  Also it was the night when we would all learn who our pro dancer partners would be. We had been guessing all week up to that point but none of us knew, not even the pros.  It was the start of the fabulous journey that is 'Strictly'.
You had a fairly long stint on the show – only being voted out in week 7. Did you ever think you would stay in that long?
To be honest I think both me and Flavia had thought that we would go further, we had been improving every week and our last dance happened to be our best to that point, so the fact we left then was a complete shock to everyone I think, it just shows that with a show like Strictly you can never know how things will turn out.  
Having said that I have been a keen viewer of the show and lending my support to my friends who were still competing, so still felt very much part of it.
What has the reaction been since leaving the show?
The reaction has been great; I think most people think that we didn't deserve to leave that week. I've even had random people coming up to me and hugging me on the street.  I know from all the letters and emails that we have a lot of support out there which is a nice feeling and there is a general feeling that I performed well which is all that I care about really.
You're going on tour with the Strictly cast and crew – what are you looking forward to most from that?
Yes the tour! Well it means that I can carry on dancing that's for sure.  I'm really looking forward to it working with all the guys again, dancing everyday and performing in front of thousands of people. I've always wanted to perform at Wembley….well now's my chance! I'm sure it will be yet another mind-blowing Strictly experience.
Other than the tour, when can we see you next?
Well you will see me in the film 'West is West' which comes out in February and another film 'Festival of Light' which has no release date as yet.  Other than that I'm looking to do something new and exciting next year. Possibly a West End show, we will see!
You can catch Jimi on the Strictly Come Dancing Live Tour at the following cities from next month: Nottingham, Sheffield, London, Liverpool, Dublin, Belfast, Birmingham, Manchester and Glasgow.