 Police charge fifth man with murder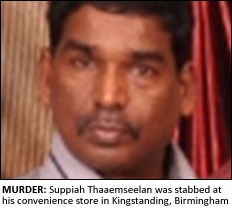 POLICE have charged a fifth man with the murder of a Birmingham shopkeeper.
Suppiah Thaaemseelan, 48, died in his convenience store on College Road, Kingstanding, in Birmingham.
He was pronounced dead at the scene despite frantic efforts to save him.
A 24-year-old man from Kingstanding, Birmingham, was today charged with murder and robbery.
He will appear at Sutton Magistrates Court this weekend.
Four other men have already been charged with murder and robbery and all have been remanded in custody.