What is in store for Baaghi 3 after Baaghi 2 was such a huge success?
Shraddha Kapoor: It is so exciting to be back with Tiger working on Baaghi 3, my character is a unique character. I am super excited about it and being back with Sajid Sir. Ahmed sir is directing it and he is so lovely and so amazing to work with. Tiger has worked super hard for the movie.
2. How was it performing action sequences in the film?
Shraddha Kapoor: I had to run from T-72 soviet military tanks. These tanks are some of the biggest ones in the world and as far as I am aware, no other actress has ever done this before in the history of Bollywood. The fact that I actually did the running shot without the help of any special effects or CGI makes it special
3. How has it been re-uniting with Tiger Shroff after the first Baaghi?
Shraddha Kapoor: It is always a pleasure. I love it when people say that we have a great on-screen chemistry. Tiger has been my junior in school and I used to be taller than him. He used to run around the school corridors in his basketball jersey and the moment he would see me, he would stop and say hi in a soft tone and disappear. He is a really nice person in real life, talks to everyone on set and shows his concern for others. It is lovely to work with nice people like him.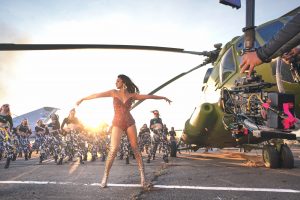 4. In the film you're also seen grooving to Dus Bahane 2.0 alongside Tiger Shroff who is a brilliant dancer. How much of a pressure has it been?
Shraddha Kapoor: Tiger is certainly a much better dancer and his moves are so effortless. But it has always been my dream to dance in a film. The pressure is more to do better than what I have done and enjoy the process.
5. How would you rate your satisfaction level at this stage of your career?
Shraddha Kapoor: I think I am in an amazing phase of my career right now. I am working on commercial films which have larger-than-life subjects. For instance- Street Dancer helped me understand the problems of people living on the streets in London. I learnt that dance is a powerful medium and it can be used to impact lives positively.
6. What's next after Baaghi 3, do we see a Baaghi 4 in the pipeline as well?
Shraddha Kapoor: Well. Why not? If the audience continues to show the same love to our film as it has for the first two instalments of the franchisee, there will definitely be a Baaghi 4 and I would love to be a part of it. Besides, I am currently awaiting to begin shooting for Luv Ranjan's next film where I am paired opposite Ranbir Kappor, it is an exciting project and I hope it gets the same love all my other films.
7. You finished 10 years in the movie industry, how does it feel?
Shraddha Kapoor: Honestly, I can't believe it, talk about time flying. I think this feels like that. I don't know how that's supposed to make me feel. It's amazing how this time has just gone by and it's been so beautiful and amazing.
8. Tell us about somebody you look up to; a person who has shaped the way you think and behave?
Shraddha Kapoor: My mom I look up to her for who she is and how she thinks. In fact, my parents have played a huge role in shaping my perspective. The irony is that my father has never picked up the phone to get me to meet anybody, and I feel like I've had to carve my own path. I have auditioned for many roles and faced several rejections. I am grateful for them because they have made me the person I am today.