 World Cup Fever with Bhangra Ace & Die-hard Liverpool fan Jaz Dhami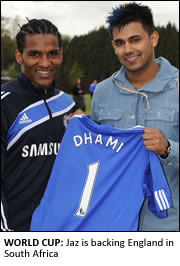 WITH World Cup fever gripping the entire country, we speak to Bhangra star and qualified football coach Jaz Dhami to see what he makes of England's chances…
Jaz we're all looking forward to the World Cup this month – does it take over your life like it does everyone else's?
Yes I am really excited for it lets hope England can do it hey! I think they have a great chance, as long as no one gets injured in the run up, which is what tends to happen with us! I'd say that I would love to have football to take over my life but the thing is I am so busy with events over the summer so I will be catching most of the games on the radio as I will be on the road a lot!
What's your earliest World Cup memory?
My earliest memory? That's a tough question. Erm I would say my earliest memory of the World Cup was seeing the likes of Baggio playing. He was an awesome player with trendy hair (laughs).
The nation goes into a frenzy ahead of every major tournament convinced England will finally triumph on the big stage – do you think this could be England's year?
I think we have a good chance of winning but let's just keep our fingers crossed that everyone stays fit and healthy! There are some big players in our squad with the like of Rooney, Gerrard and Terry who when on their game, can give any country a run for their money. But let's wait and see what happens! It's going to be a cracking World Cup though that's one thing I am certain of.
We've got some good players – Wayne Rooney, Frank Lampard, Steven Gerrard – why do you think England have underachieved in the past?
That's hard to say. But I think we have under achieved because of a mixture of things really. Firstly I think as individuals as you have said we have the likes of Lampard, Gerrard and Rooney on the pitch who are all fantastic players but when they play together for some reason we don't gel, which I think is our main problem. But we are in great hands with Fabio, he is a top manager and if anyone can bring back the World Cup to us is Fabio. He has really put in a great team spirit into the camp and he has transformed the squad into one that's focused solely on football which is important.
Do you have any concerns about the danger of England's over reliance on Wayne Rooney up front?
Well there is always a danger in relying on one player in bringing glory. But with that said Wayne Rooney is an exceptional talent who actually thrives in being the leader and the man behind the wins.
We've had some bitter injury blows leading up to the tournament – David Beckham an obvious one. Do you think we'll miss him in the tournament?
Oh yes for sure, Beckham is a legend and is an important player both on and off the field. In the dressing room Beckham is a great figure to have as he has plenty of experience in playing in some really nail biting fixtures and of course he has great leadership skills having captained the England team for years. On the pitch he is still an exceptional player, despite his age. His set pieces are second to none, and yes for that reason I think he will be missed. But there is no point dwelling on it, we just have to get on with it and do the best that we can do without him.
Putting England to one side – who are the other teams that can pose a real threat to England?
The obvious ones are of course Brazil and Argentina who are always deadly. But I think Spain are going to have a good World Cup and I have my eyes on the Ivory Coast doing well with that man Drogba in the squad, but lets just wait and see hey!
Finally who are your World Cup picks Jaz? Winner? Top Scorer? Player to watch?
Winner, I would say England. I have to dream hey! Top scorer I think would be Torres and the player to watch will have to be that little man Messi. If he continues to play for Country as he has for club, we are going to be treated to some awesome quality football.
WATCH OUT for new material from Jaz this Summer!