 Bollywood reveals sadness at reality star's cancer diagnosis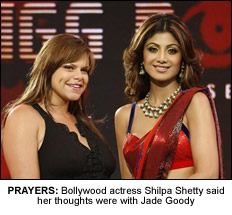 BOLLYWOOD actress Shilpa Shetty has said she is praying for cancer-stricken Jade Goody.
Speaking on her website Shetty, who shared a house with Goody on Celebrity Big Brother, said she was saddened by the reality star's cancer diagnosis.
"The last time I spoke to her (Goody), she seemed very positive and we were all expecting that the doctors would be able to curb the cancer from spreading," Shetty wrote.
"This piece of news came as a shock so I called her hoping it was only a rumour but she confirmed it."
The actress said she had received an invitation for Goody's impending wedding with long-term boyfriend Jack Tweed but was forced to cancel due to filming commitments.
Shetty added she was praying for her former housemate.
"I hope for a miracle to happen for her children's sake. My mom says prayers can make them happen. Hope God's listening to mine and gives her the strength to cope with this pain."
The two famously clashed on Celebrity Big Brother in 2007. More than 46,000 people complained to media watchdog Ofcom in a racist bullying scandal rocked the show.