 Jailed drug dealer told 'face sentence increase if money is not repaid'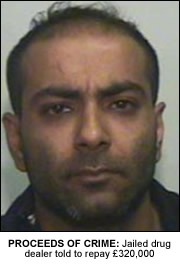 A 36-year-old man, who was injured in a drive by shooting, has today been ordered to pay £320,000 at a Proceeds of Crime hearing at Manchester Crown Court Crown Square.
Mohammed Jahangir Bashir was jailed for nine years in May 2008 after police found heroin and cocaine in the car he was driving when he was shot.
In court today he was ordered to pay the money within six months or face an increase of three years on his sentence.

Bashir, of Boundary Park Road, Chadderton, was driving a hired Vauxhall Vectra when he was shot in the arm on 5 January 2007.
He was taken to hospital and his car was seized for examination. Police found thirty individual wraps of heroin in the foot well of the car as well as a number of wraps of cocaine on the front passenger seat.
Bashir was arrested by police after he attended at Ashton-under-Lyne police station to view an identification parade in connection with the shooting.
When officers searched his car for a second time shortly after his arrest they found 50 wraps of heroin and 74 wraps of crack cocaine concealed within the gearbox.
He was subsequently charged with possession of cocaine and heroin with intent to supply and was jailed for nine years on 21 May 2008.

David Gwilliam from the Financial Investigation Team at Ashton said: "Today's result shows our investigations don't stop once a defendant has been sentenced.
"We are committed to tackling the problem of drugs and we will fully use the powers available to us to seize property and money from offenders."