 2NV pin-up stars in new Channel 4 reality TV show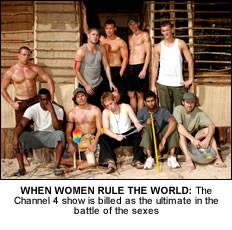 A BRITISH-Asian music star is all set to make a splash in a new reality TV show for Channel 4.
Amaan Irees, one-half of the group 2NV, is one of ten men and eight women who will feature in the £2.5 million show 'When Women Rule The World' set to hit our screens this month.
Filmed in a secret Caribbean village, the series sees the women taking sole charge of the village with the men obeying their every command as they bid to create their perfect female crafted community.
'When Women Rule The World' is billed as the ultimate in the battle of the sexes and will be hosted by T4 heartthrob Steve Jones.
The show is already a big hit in the US, but Channel 4 producers were keen not to give the contestants any idea what they were getting themselves in to.
"Right from the start we were not given any indication to what the show was about or where we would be going", Amaan told DesiXpress.
"They gave us a list of things that we could bring with us like certain clothes, but we were told we were not allowed to have our mobile phones and that we would not be in touch with the outside world. That was the most worrying part, I can't live without my phone – even my shower has a phone in it!
"The night before the flight, I was checked into a hotel at separate times from the other contestants so we didn't bump into each other. That night we were told that we were about to fly to the Caribbean and were just given basic do's and don'ts." 
Amaan could have been forgiven for thinking he was in paradise after four days of living in Caribbean luxury. But the penny soon dropped when he realised just what he had got himself in to.
"When we arrived on location heaven turned into hell. That's when we found out that we have entered the women's society and we would all be servants and they would be our mistresses, because apparently they ruled the world."
For Amaan, friends and family will get to see a different side to the star when the series bursts onto our screens this month – "All the people that know me will notice that I am not being cheeky for once in my life, they will see me on my hands and knees – for the right reasons of course"!
Amaan's participation in the show will see the star add to his increasingly growing portfolio. Already an established name on the Brit-Asian music scene, Amaan is forging a career on the screen and has already bagged himself a part in two Bollywood movies.
So what's next for Brit-Asian's newest reality star?
"I am currently spending a lot of time in Mumbai, as I've recently been featured in 2 Bollywood movies, one is called "Straight" which stars Gul Panaag and Vinay Pathak, and the other is called "Mr Bhatti On Chutti" which stars Anupam Kher, Shakti Kapoor, Pawan Shankar and Bhaivi Goswami.
"I am also still working on music but most of that will be released for films in India. Whilst I was there I had a meeting with Mahesh Bhatt and he might be using one of my songs for his next big blockbuster."
'When Women Rule The World' hits our screens at 9pm on September 4.