 Family fun as Brit Asian music stars woo crowds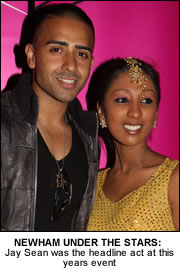 THE sound of Asian Britain could clearly be heard at Newham last weekend as some of the biggest names within Asian music came together at 'Under The Stars' an event supported by BBC Asian Network digital radio and organised by Newham Council.
'Under The Stars' was a fantastic family event which gave audiences the opportunity to taste the sheer diversity that Asian music has to offer by providing an electrifying menu of stars including old school Bollywood legend Labh Janjua alongside up and coming musical artists Zeekay and 3Mix that worked to perfection.
Performances by current Bhangra chart topper H Dhami, Alyssia, Reenie and Metz & Trix added to star studded line up that each provided an extra dosage of musical treats to feed the audiences hunger of hearing the crème de la crème of Asian music.
To add to mix, dance performances by Virsa Punjab Dancers and Fusion delighted the audiences as their colourful routines were executed to a tee.
To wrap up the evening multi award winning R n B artist Jay Sean serenaded the audience with chart topping tracks including Ride It and Maybe which was the icing on the cake to the fantastic event.
By Sunny Sahota