 Jay beats Kanye to top spot in Japan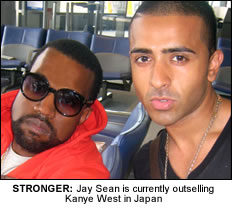 JAY SEAN has outdone Hip-Hop superstar Kayne West – by beating him to the top spot in the Japanese charts.
The British-Asian star is enjoying huge success with his album 'My Own Way' and it seems Japan just can't get enough of the Slough star.
His single 'Maybe' rocketed to top of the Japanese charts after becoming the highest played song across Japanese radio.
He bumped Coldplay and Madonna as he raced to the top, and outsold Kayne West who came in at number two.
Jay has been busy treating his fans in Japan to some live action.
Club Eggman was the venue for his first gig where he received a warm reception from the locals. Alongside MC Zani, Jay provided an incredible performance.
The gig was hosted by one of Japan's hottest DJ's, DJ Komoro. In true Japanese style, the party went on till sunrise!
Jay is continuing his international takeover and is set to release his album 'My Own Way' in India.
The release will feature Hindi versions of his hit songs Ride It – Kya Yehi Pyaar Hai, Stay – Tu Rahe and Maybe – Shayad.