 Board confident future tours will not be affected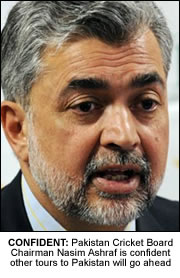 PAKISTAN Cricket Board Chairman Nasim Ashraf is confident future tours to the country will go ahead despite Australia pulling out of their scheduled tour later this month due to security concerns.
Pakistan are due to host the Asia Cup in June and the ICC Champions Trophy in October. It is too early to tell whether the teams taking part in the tournaments may be affected by Australia's decision not to go to Pakistan, but Ashraf said he was confident there would be no issues. 
"We are very confident our cricket will continue. The Asia Cup is very much on towards the end of June. Arjuna Ranatunga [Sri Lanka Cricket chairman] and the Asian Cricket Council (ACC) will be here soon to finalise plans for that," Ashraf told Cricinfo.
"The Champions Trophy is on soon after that and the ICC will also try and ensure that all teams take part in that. India are due to come here at the end of the year as well."
Ashraf revealed his disappointment at Australia's decision not to tour adding they had tried to convince Cricket Australia to send a team to Pakistan to assess the situation on the ground.
"Our consistent plea has been that at least the ground situation here should be assessed by Cricket Australia, but they said that they had made independent assessments and the decision was based on that", Ashraf said.
"Our position is that these blasts have been happening for the last two years. That hasn't changed now and we have had four international tours to Pakistan recently, including South Africa, Zimbabwe and Australia A. These are tragic incidents and paint a bad picture of the country, but they are targeted specifically at security institutions."
The PCB are now looking to fill their calendar with a visit from South-Asia neighbours Bangladesh looking the likeliest.
They have agreed in principle a request from the PCB to play a 5-match ODI series and a Twenty20 International in April.