 But Bollywood babe urges UK to forgive race trio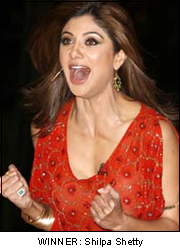 BOLLYWOOD BABE and new Big Brother queen Shilpa Shetty sensationally urged the UK to forgive race trio Jade Goody, Jo O'Meara and Danielle Lloyd saying they were "human beings" who made some "mistakes".
The 31-year-old, who was the subject of racist bullying at the hands of the trio during the reality show, was on the verge of tears moments after leaving the house after watching a segment showing her former housemates mimicking her accent and directing derogatory comments at her and the Indian community
For the first time the Bollywood actress heard   racist comments that led to more than 46,000 complaints to media watchdog Ofcom.
She was visibly upset when shown clips of O'Meara and Lloyd discussing the eating habits of the Indian community, on hearing Lloyd hoping she would "f*** off home", as well as a host of other comments that took the TV world by storm.
But as gracious as ever, Shilpa refused to play the race card saying she hoped the UK could forgive her tormenting housemates for their "mistakes".
Holding back the tears, she said: "I just want to forget things. I just want to put one thing at rest, that things have happened and people make mistakes and we're all human beings and all fallible. I know one thing for sure that Jade really didn't mean to be racist,I can say that for sure she is a little aggressive, she may be hot tempered, short tempered whatever you call it, but she is not a racist. So if this has created any kind of misunderstanding or furore I just want to put things at rest and I want to say that she isn't a racist.
"I really don't want to leave England putting anyone in trouble. I think this country has really given me so much and I am so happy I took up this opportunity. I don't want people here feeling that they welcomed an Indian here and she caused so much trouble. So I just want to thank the whole of Great Britain for giving me this fantastic opportunity to make my country proud."
The racist bullying of the Bollywood star dominated headlines as far a field as India and even made it into the Houses of Commons.
While Channel 4 were reluctant to put an end to Shilpa's torment in the early stages they were forced to deal with the situation when sponsors Carphone Warehouse pulled the plug on its multi-million pound deal.
Within days Goody was evicted and Shilpa's torment came to an end.
But while the house went back to 'normal', for those watching the show it was harder to forgive and forget.
O'Meara was the next of the trio to be evicted – leaving the house alongside fellow housemate Cleo Roccos to a crescendo of boo's from the waiting crowd outside.
And by the time Lloyd and Goody's boyfriend Jack Tweed were booted from the house the public had finally gotten rid of the terrible trio who had shaken Channel 4 to its very core.
At the show's final press conference, Shilpa was again pressed on the racism issue and on the support of British Asian's across the country.
"I just want to thank them for all their support and I just want them to know that there's no reason to feel what they feel as long as you carry yourself well with dignity, with kindness in your heart," she said.
"It can never go wrong, so it does not really matter what people think of you and what they perceive of you.
"Everything in the Big Brother House is really, really magnified. I just want them to understand it was just a game. It's over, it's out of the way. Let's move on."
While all housemates gathered for their final appearance on Big Brother's Big Brain with Russell Brand later the same night, the trio of Goody, O'Meara and Lloyd were noticeably missing.
While both Goody and Lloyd, who against the advice of her agent and appeared at the winners press conference saying she deeply regretted her actions, O'Meara is the only one who has not apologised for her actions.
In fact the former 'S Clubber' told the Sunday Mirror in an exclusive paid-for interview that she believed she had done nothing wrong.
In her own words, "If I went back in there then I'd say it all again".
She even went as far as to claim the Indian community should take her claim that they are skinny due to undercooking their food as a "compliment", and attacked Shilpa for getting "special treatment" in the house.
Her sniffling interview with GMTV's Fiona Phillips just days after Shilpa's triumph did little to change widespread opinions of the former pop star.
And while the 'BB witches' as they have affectionately been dubbed are counting the cost of their actions (Goody's perfume has been taken off the shelves of major high street shops and Lloyd has reportedly lost a six-figure modelling contract), the irony of it all is that Shilpa is on the verge of becoming a huge star in the West.
Her story of her time in the house was published exclusively by the Mirror newspaper for an undisclosed fee, there are talks of a string of Bollywood shows, a book deal, yoga DVD,and with rumours abound that she is being lined up to star alongside Johnny Depp in the Hollywood film 'Shantaram' the sky is the limit for the pretty Bollywood star who entered this years Big Brother as a relatively unknown star, but has left as the epitome of all things great.