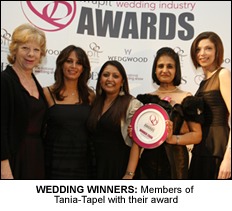 A LEICESTER-based Asian wedding service has scooped top prize at the Wrapit Wedding Industry Awards.
Tania-Tapel Limited proved themselves to be top of the tree – having been voted Britain's best wedding planners.
The Leicester-based company took the coveted honour at a glittering ceremony at Claridges which was attended by wedding industry professionals from throughout the UK.
Tania-Tapel specialise in Asian weddings throughout the UK and have recently expanded their service internationally to include Mumbai and Dubai.
Anita Patel, Director of Tania-Tapel which she founded 12 years ago, said after collecting the award: "This is tremendous, particularly as the quality of the other finalists was so high. We owe a special thank-you to all the clients, family and friends who have supported us throughout."
She added: "I'm a committed believer in the wedding industry providing the best possible service to clients on what is, after all, one of the most important days they are likely to experience. To have won this award at national level is remarkable considering the quality of the competition we faced.
"It's a credit to a quality team and supplier support throughout our years in the industry. This is the highest accolade one can receive in this sector and I'm honoured we have been selected, after years of sheer hard work and dedication."
The awards, which recognise excellence in the weddings industry, are supported by Wrapit Gift List Service, Condé Nast Brides magazine and Wedgwood, in association with The National Wedding Show.