 Salman Khan criticised for attending puja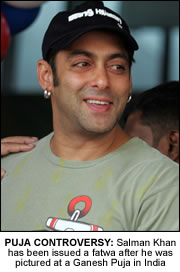 FRESH from his jail hell, Bollywood star Salman Khan has walked himself into another controversy after an Indian Muslim group issued a fatwa against the troubled star for attending a Ganesh puja.
Salman, a Muslim, was pictured at the Ganesh puja at the famous Lalbagh ka Raja Ganpati Mandal in Mumbai on Wednesday alongside hundreds of other devotees.
News items reported the star as saying: "We believe in this. The energy here is spectacular. When we were kids, we used to come here and I have come here after a long time. Whatever I wanted, I have got."
But his decision to attend the religious event has angered one Indian Muslim organisation who issued a fatwa against Salman whilst demanding he read the Islamic 'Kalma's' again to be deemed a Muslim.
Salman's father Salim Khan reacted strongly to the news of the fatwa: "If these are Muslims then I don't want to be called a Muslim. I want to know how these people are qualified to issue a fatwa against my son. I don't think people who have issued a fatwa against Salman have anything to do with Islam; they don't even know their religion well. Don't they know that the Koran says ' sab ka khuda ek '?

"My family is a cosmopolitan family with members from practically every religion living under one roof. What has my son done? He has gone for an aarti which is not wrong at all. Such issues don't even come up for discussion in our house. All I can say is that a fanatic Hindu and a fanatic Muslim only thrive and live on hatred and it is their hatred towards us that they express through such fatwas."