 Star-studded Salaam-E-Ishq kicks off 2007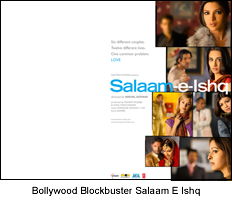 If there was ever one Bollywood movie that would kickstart what is being billed as a great year for Bollywood it would have to be Nikhil Advani's star-studded blockbuster Salaam-E-Ishq.
Advani's last film was the hugely popular Kal Ho Na Ho and those eager to watch Salaam-E-Ishq can expect the same drama and tears of the Shah rukh and Preity hit.
While the delectable Shah Rukh and eloquent Preity do not feature in Advani's latest project there are enough Bollywood hotshots to keep the box office figures rolling right till Easter.
Salaam-e-Ishq is the story of 6 groups of people, who from different parts of the world and from different walks of life, end up being brought together by destiny, fate and love.
As the film begins, the lives of the six couples unfolds as follows…         
Tehzeeb (Vidya Balan) wakes up in the morning to find a small diamond pendant by her bedside. An anniversary gift from her very romantic husband Ashutosh (John Abraham). They had eloped and got married two years ago. Struggling like all married couples in Bombay they work in media – in a news channel. She is a field reporter and he is a film editor. Completely crazy about each other they find it quite difficult to keep their hands off each other. But things are going to change because Tehzeeb is going to be involved in a tragic accident that will change everything. An accident that will put Ashu's love and devotion to the ultimate test.
Raju taxiwala (Govinda) wakes up in the morning and gets into his colourful Delhi taxi. He drives from his home in Chandni Chowk to the New Delhi International Airport, like he has for the last 15 years. Unlike the other taxi drivers, he does not complain about the ever-increasing queue. He hasn't even once in the last 15 years. Because he enjoys watching the doors of the New Delhi International Airport. Opening and closing. Hoping that among the pasengers will be 'her' – his blonde dream girl. The girl that he has waited for the last 15 years.
But things are going to change because his blonde dream girl does come from those very doors. The only problem is that Stephanie (Shanon Esra) has come looking for Rohit Chaddha – her boyfriend.
Vinay Malhotra (Anil Kapoor) wakes up in his picture perfect suburban London home every morning. He is cared for by his picture perfect wife Seema (Juhi Chawla), and he is kissed goodbye by his picture perfect daughters. He goes to his picture perfect London PR job and returns to his picture perfect wife, daughters and home.
But things are going to change because Vinay Malhotra meets Anjali (Anjana). Unconventional, over confident and extremely determined. Anjali comes from a world that Vinay only dreams of. A world where the very modern single girl living in London gets what she wants. And Anjali wants Vinay Malhotra.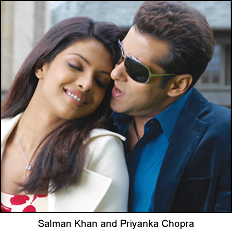 Kkamini (Priyanka Chopra) wakes up to another scandal in the morning newspapers. The most sought after item girl in Bollywood cannot help but get involved with all sorts of problems with the media. Problems that she attributes as the cause for not landing the coveted heroine roles. The roles that she came to the big bad world of Bollywood for. But things are going to change…Because she has devised a plot to change her image in the media, the public eye and most importantly the big producers of Bollywood. A plot that will propel her from item girl to number one heroine…The only thing that she has not anticipated is Rahul (Salman Khan).
Shiven (Akshay Khanna) wakes up to a nightmare. The most consummate bachelor in New Delhi is engaged to get married in the next 10 days. The most consummate bachelor in New Delhi has suddenly realised what is in store for him. The most consummate bachelor in New Delhi wants to break off the engagement. And he does hurt his fiancé Gia (Ayesha Takia) in the bargain. But things are going to change because with each passing day and with every agonising hour he begins to realize that without Gia he is suddenly and completely incomplete.
Ramdayal (Sohail Khan) and Phoolwati (Isha Koppikar) are newly married couple from a small town in north India. They want to spend the rest of their life together, devoting every hour to fulfilling the lust that has been built up within them all these years. But things are going to change because no matter how and where Ramdayal tries to fulfill that burning desire, something goes wrong and Ramdayal and Phoolwati are thrown into a series of events that become tragically and comic without deterring them from the never ending attempts to fulfill that desire.
Salaam E Ishq is released on January 25th