 Mahira Khan pitted against Salman Khan this Eid 2015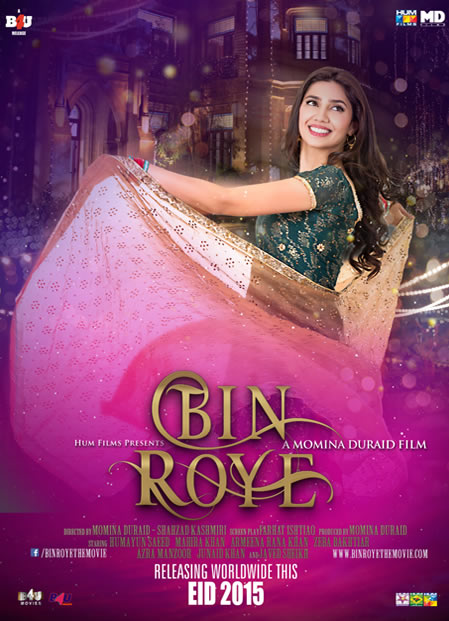 The talented Pakistani Actress, Mahira Khan who has been recently signed by Shah Rukh Khan in the upcoming film Raees, will also be seen in Pakistan's most anticipated feature film Bin Roye which is all set to release on EID with Salman Khan's Bhajrangi Bhaijaan!!
The movie also stars Armeena Rana Khan and the evergreen Humayun Saeed in lead roles. 
Bin Roye, a Shahzad Kashmiri and Momina Duraid directorial, is a saga of obsession in love that develops jealousy and rivalry between two girls for one perfect match. It is a story that can be best described as a tragic beauty.
Bin Roye was already shot in Pakistan before she bagged her role for Raees, and Mahira Khan is all set to charm her Pakistani audience this Eid (July 17, 2015)!
Synopsis
Bin Roye-an epic tale of love and hate. The story is based on Saba's (Mahira Khan)  unconditional love for Irtaza ( Humayun Saeed)
, who is the center of her universe. This perfect world of hers is completely offset when Irtaza leaves for his higher education to the US. Here he meets the girl of his dreams and decides to marry her. Saba's nemesis is her very own sister, Saman (Armeena Rana Khan) who had been adopted by her aunty and uncle at birth. With her fairy tale world distraught Saba turns bitter and cold. Bin Roye take its viewers through a play of fate, marriages, betrayals and death. Will there be a happy ending for  for Saba and Irtaza or have their paths split forever.
Starring: Humayun Saeed , Mahira Khan , Armeena Rana Khan ,Javed Sheikh,Zeba Bakhtiyar, Azra Mansoor, Junaid Khan
Genre: Romance, Social ,
Directed by: Shahzad Kashmiri & Momina Duraid, DOP : Farhan Alam
Produced By: HUM FILMS