 Prince Asked for Copy of Bullett Raja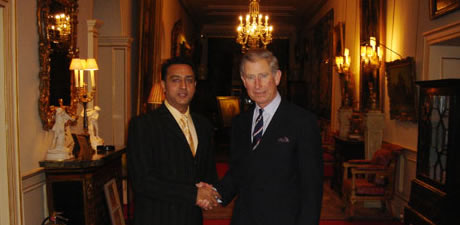 Bollywood's favourite baddie Gulshan Grover was pleasantly surprised recently when HRH Prince Charles asked for a DVD of the actor's forthcoming action thriller film Bullett Raja during the Monarch's recent visit to the Asian subcontinent. Gulshan promptly responded by informing Prince Charles that a special copy, complete with English subtitles, would be made for Him.
The Prince of Wales met with Gulshan at an exclusive sit-down black tie dinner in Mumbai during his promotional tour of India ahead of his trip to Sri Lanka for the Commonwealth Heads of Government Meeting. The pair have met on several occasions, with Gulshan citing how much he admires the Prince for his extensive charity work both at home and abroad. After their meeting Gulshan contacted the film's producer, Rahul Mitra, and asked that a DVD with English subtitles be made and urgently given to Prince Charles. Commenting on his meeting with the Prince, Gulshan said 'I'm a great fan of HRH Prince Charles because of the charitable work he does. He's constantly thinking of ways to do more for people, and not for people in the UK alone, but for people outside of the UK too. We're discussing ways of doing some charitable events where I'll use my popularity along with the strength, popularity and contribution of my fellow Bollywood stars.'
Bullett Raja brings together two powerhouses, director Tigmanshu Dhulia and Bollywood superstar Saif Ali Khan, supported by a multi-star cast led by Sonakshi Sinha, Jimmy Shergil, Vidyuth Jamwal, Chunkey Pandey, Gulshan Grover, Ravi Kishan and Raj Babbar.
In the film Saif Ali Khanis seen in anew avatar, Raja Mishra, a commoner who gets transformed into Bullett Raja – a notorious, don't-give-a-damn attitude gangster. Bullett Raja has huge universal appeal and is sure to strike a chord with all audiences. The music has been directed by hit music-duo Sajid-Wajid.
With an engaging story full of twists, turns and tantalising action sequences, the film promises edge-of-your-seat entertainment with a generous helping of tongue-in-cheek humour and romance as Saif Ali Khan stars in and as the formidable Bullett Raja.
Bullett Raja is presented by Fox Star Studios India. It is a Brandsmith Motion Pictures and a Moving Pictures production. Bullett Raja will be released in cinemas from 29th November 2013.