 Champion looks ahead to British Asian Sports Awards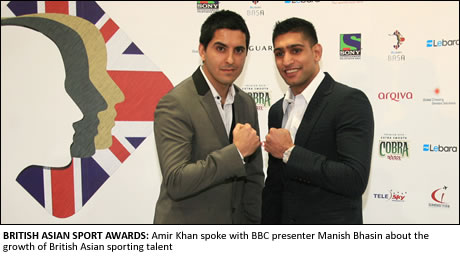 LEBARA British Asian Sports Awards Brand Ambassador, Amir Khan yesterday celebrated the growing number of young British Asians coming forward to be recognised for their sporting prowess.
Khan, who has been a Brand Ambassador for the Awards for the past three years, spoke candidly about his own incredible career, why he felt it was important for sport to reflect the diversity of Britain in every sense and how being a role model for British Asians is in itself a driving force for him to succeed.
BASA prides itself on recognising and celebrating the substantial achievements of British Asian sporting talents from across the UK. As well as honouring professionals who have already proved themselves within the sporting arena, BASA is a unique institution for raising the profile of talented amateur and semi-professional South Asians involved in sport and nurturing that talent even further.
Amir Khan was first nominated for a British Asian Sports Award in 2004, at the age of 17 after winning his Olympic Silver medal. Pit against former England cricket player Vikram Solanki, Khan was believed by the judges to be a true inspiration for future generations. Since then he has received a further four BASAs, and in 2007 took up the role of Brand Ambassador for the Awards.
He said: "I was very lucky to have such a supportive family as I grew up and got involved in boxing. They have been behind me all the way, but I know that it's not that easy for so many young Asians who want to pursue a career in their chosen sport. I'd like to think that my success, along with my role as brand ambassador for these important awards has helped parents and young people alike to see that pursuing a sport can be rewarding, fulfilling and is a true achievement."
The Lebara British Asian Sports Awards this year celebrate a decade, with a line up of finalists that are truly diverse both in sports, age and gender. Amongst the hopefuls vying it out for the seven categories are 21 individuals who have been nominated by the public and then shortlisted by a world-famous judging panel, including former England cricketer Mark Ramprakash, Olympic Gold medallist, Denise Lewis (OBE), Lorraine Deschamps of Sporting Equals, Sports journalist Mihir Bose, this year's latest addition BBC's Football League Show presenter, Manish Bhasin, and Executive Vice-President – International Business for Sony Entertainment Network, Neeraj Arora.
Competing for the coveted British Asian Sports Personality of the Year award is Cardiff City forward, Michael Chopra, Formula Renault racer Luciano Bacheta, and last year's winner of the Most Up and Coming Sports Personality of the Year and youngest ever World Pool Masters Champion, Raj Hundal.
Khan continued: "Over the past ten years that the BASAs have been in existence there has definitely been an increase in people coming forward to take part and this must be a reflection of changing attitudes in the community. We now have stars like Michael Chopra, Rajiv Ouseph and Isa Guha as well as hundreds of other hopefuls who are all proving that it's not about colour but how good you are at your sport. The BASAs are a platform for them, like they were for me. I hope that in ten years time we will see more Asian Olympiads, world champions and premier league footballers."
The intimate 'in conversation with' interview, hosted by sports presenter Manish Bhasin, in front of an invited audience of journalists, took place at Khan's Bolton gym, of which he is understandably proud. The gym, in the heart of Bolton's breeding ground for new boxing talent, with Khan playing an active interest in its young members.
"This gym was created to give the community here in Bolton to inspire and nurture new talent in exactly the same way. Kids can come here and see that even a young kid from Bolton can make his dreams come true. All it takes is a bit of hard work, lots of commitment, encouragement and support."
Public voting for the winners of the seven categories in the Lebara British Asian Sports Awards opens on Tuesday 8th February, with the winners being announced at a glittering gala ceremony at London's Grosvenor House Hotel on Saturday 5th March 2011.