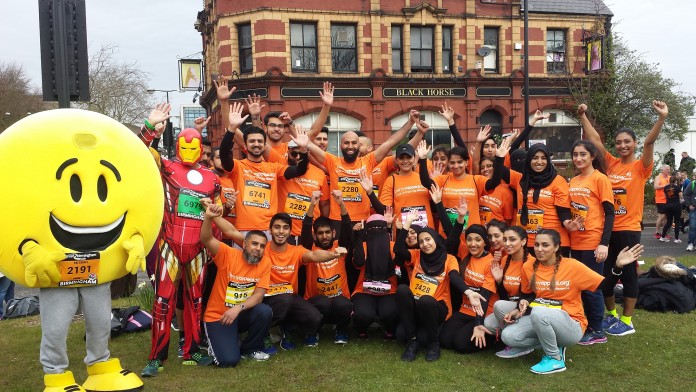 A team from international humanitarian charity Penny Appeal, which recently established a base on Ladypool Road, successfully completed the Great Birmingham 10k on Sunday (1st May), raising £5,000 to care for and educate orphans and needy children.
Coming together as part of the charity's #TeamOrange volunteer and fundraising family, they took on the challenge for Smile Relief – Penny Appeal's month of activity to create smiles by caring for orphans and opening new schools.
Among the #TeamOrange participants were Smile Relief mascot Mr Smiley and Iron Man, as well as many walkers, joggers and runners in their vibrant orange t-shirts.
Haroon Mota, Penny Appeal's Midlands Fundraising Manager, was as impressed with their fundraising success as their efforts in the race. Known as the 'Mota-vator', Haroon is an experienced runner and led the team every step of the way.
"It was a fantastic day, full of energy and determination," Haroon said. "In support of Penny Appeal's Smile Relief campaign, we wanted to "run the miles and make the smiles" to help provide better futures and transform the lives of orphans and needy children around the world.
"The team did exceptionally well to walk, jog and run the 10km distance, a great achievement, especially for the majority who were participating in a race for the first time."
Donations can still be made to the #TeamOrange runners via their JustGiving page: www.justgiving.com/teams/bham10k.
Penny Appeal's #TeamOrange fundraisers and volunteers have been making a big impression in the area, with 75 people taking on Coventry's Half Marathon in February. Joined by BBC The Apprentice star Mergim Butaja, they raised over £50,000 to support refugees.
They are now looking forward to their next running challenge – the Great Birmingham Half Marathon in October.
"Everyone is welcome to join the #TeamOrange family," Haroon added. "We have all sorts of challenges and activities coming up and there really is something for everyone, so if you can't run for the bus then maybe you could host a bake sale or try a sponsored silence!"
If you'd like to be part of #TeamOrange and help transform lives, contact Haroon at haroon.mota@pennyappeal.org.
Find out more about Penny Appeal's work and donate at www.pennyappeal.org or by calling 03000 11 11 11.