 Aston Hall a YouTube hit for singer Sarbjit Cheema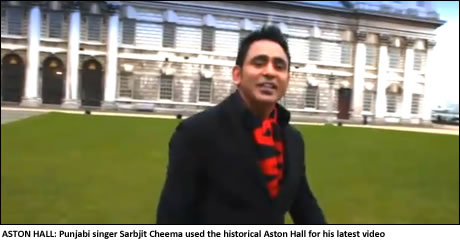 A 376-year-old Birmingham museum has become a worldwide internet hit thanks to Indian pop superstar Sarbjit Cheema.
Aston Hall features prominently in the video for Cheema's latest release YAARI , which has shot straight to the top of the Punjabi charts.
Shot and directed by Stewart Addison and Jazz Virk of Birmingham based production company Film Division Productions, the video is also proving popular with music fans in the UK and Canada, while an upload on YouTube has also been watched over 10,000 times in less than a week.
Now Birmingham City Council's Cabinet Member for Leisure, Sport and Culture Cllr Martin Mullaney is hoping Aston Hall's starring role will lead to more requests to film at the community museum, which reopened in July 2009 following a £12.75m refurbishment and restoration project.
He said: "We're very proud of the Aston Hall restoration project and now the Hall can be seen in all its glory by a whole new audience. Who knows, maybe this could lead to more location filming in the future.
"The Sarbjit Cheema video came about when the production team contacted us via the council's Film Birmingham unit and said they were looking for a special location that had an old fashioned English feel to it.
"They filmed at Aston Hall a couple of days before Christmas and the end results are quite stunning. I know the producers were very pleased with the outcome and so are we."
Director Jazz Virk added: "Sarbjit Cheema is massive. He's not only a pop star, he's done films too and has a huge worldwide following – not just in India but anywhere with a big Sikh community.
"He mentioned Aston Hall when we were looking at locations for this video and we're all delighted with the final outcome – it looks fantastic and the staff could not have been more helpful."