 Boxing champ shoots music video in LA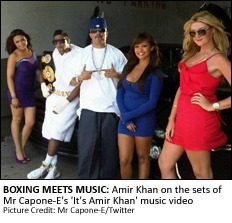 BOXING star Amir Khan has showed he is not only a talent inside the ring after he shot his first ever music video.
The light-welterweight star appeared alongside American rap artist Mr Capone-E, who wrote the track "It's Amir Khan", which was filmed at the Wildcard Gym in LA as well as other famous landmarks around the city.
 "For me this is something different and something I have never done before. I'm excited to be in the video and it was really fun to shoot," said Amir.
Amir is back in the UK and was last night photographed at the London premiere of The Expendables. 
Mr Capone-E has released 11 albums since he started rapping in 1998 and is already well established in the US.
"It's Amir Khan" is set to be officially released in the coming months and Mr Capone-E will be hoping that this video, alongside Amir, will help him break into the UK market.