 Gurinder Chadha reveals motivation behind being a film director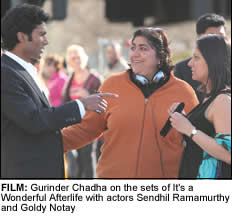 AWARD-winning British director Gurinder Chadha has revealed she was motivated to become a film director because she wanted to see Asian faces on the big screen.
The Kenyan-born director returns to the UK box office next month in the supernatural comedy 'It's a Wonderful Afterlife'.
"I started making movies because I wanted to see more people that looked like me or my community on our screens and It's A Wonderful Afterlife represents me taking those images and putting them into a genre we, as Asians could never imagine we could see ourselves in," the director said.
"When I was growing up, we never saw Asians on TV never mind the Western movies. My work has been about making us mainstream and now I have helped achieve that, I want to have fun with it."
Her latest venture, 'It's a Wonderful Life', tells the story of Mrs Sethi, played by Indian actress Shabana Azmi, a serial curry killer whose match-making efforts turn deadly when she tries to marry off her daughter.
Building on Chadha's record for discovering new talent, the main lead is played by the newcomer, Goldy Notay, who will next be seen on the big screen in Sex and the City 2.
Other cast members include Sendhil Ramamurthy, from the hit US drama 'Heroes', British actor Jimi Mistry and the BAFTA-nominated Sanjeev Bhaskar.
It's a Wonderful Afterlife releases nationwide on April 21
Related Articles