 Akbar Jan fled after 'filthy' takeaway was uncovered by health officials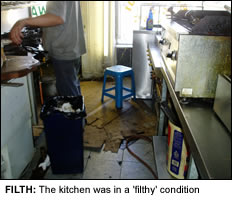 A TAKEAWAY owner who went on the run and had to be recaptured by the Metropolitan Police when his filthy shop was raided by council officers, has been sentenced at Birmingham Crown Court.
Akbar Jan allowed food to be cooked in disgusting conditions at his Bab-E-Khybar takeaway on Highgate Road, Balsall Heath, Birmingham Magistrates Court was told.
Environment health officials found rat droppings amongst bags of rice, while fat and grease lined the walls of the takeaway kitchen.
There was also no running hot water for staff or customers after Jan failed to pay his gas bill.
The takeaway was so bad health officials were forced to issue Jan with a hygiene emergency prohibition notice which closed the takeaway immediately.
But instead of owning up to his wrongdoings, Jan fled to London when he was summoned to appear at Birmingham Magistrates Court.
He was finally recaptured and brought before the court where he received a three month sentence suspended for 12 months for food hygiene offences.
He was ordered to pay £2,645 in costs and prohibited from managing a food business for six months.
Jan was told he would have to undertake training and obtain qualifications in Food Hygiene before being allowed back in the food business.
The Court was told Jan was rumbled in May 2008 when an Environmental Health Officer from Birmingham City Council noticed a thick plume of black smoke coming from the rear of the Bab-E-Khybar takeaway.
When he decided to investigate he found a series of dangerously fitted LPG gas cylinders which Jan was using to supply the kitchen cookers and a tandoori oven after he failed to pay his gas bill.
The lack of gas meant staff and customers at the takeaway had no access to hot water.
In the kitchen officials were confronted with filthy conditions.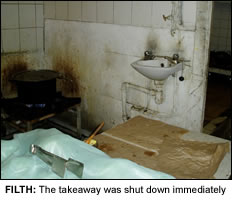 Unbeknown to the takeaway's customers fat and grease lined the walls of the kitchen, door handles were blackened with dirt, the floor was heavily soiled and mouse droppings were discovered around rice bags.
The refrigeration unit was described in court as "extremely dirty", while onions were being prepared in a rear yard just yards from an overflowing drain and 17 bags of waste food.
Councillor Neil Eustace, Chair of the Public Protection Committee at Birmingham City Council, described Jan's behaviour as "disgraceful".
He said: "Akbar Jan's behaviour has been disgraceful from start to finish. He has shown complete disregard for the health of his customers and his staff.
"Not only could he have made people very ill with the unsanitary conditions in which food was being prepared and served, he had a rickety system of gas cylinders that turned the back yard into a potential tinderbox. On top of that, he then runs away to London, wasting valuable police resources from two separate forces, to bring him to justice.
"I think that the Judge in this case was entirely right when he said that the public were entitled to be protected from people like Jan."