 Ceremony is a 'great celebration of British Asian sporting talent'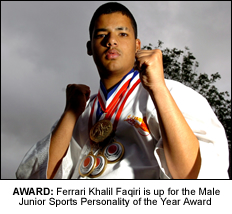 THE cream of British Asian sporting talent will gather in London this weekend for the annual British Asian Sports Awards.
Thirty candidates have been shortlisted for the awards ceremony which will take place at the Grosvenor House Hotel on Saturday.
High profile judges including former England cricketer Mark Ramprakash and BBC Sports Editor Mihir Bose, whittled hundreds of entries down to the final 30 who will compete in categories which include the British Asian Sports Personality of the Year and Most Up and Coming Sports Personality of the Year. Winners will be decided by public votes.
Amongst those vying for an award is 17-year-old Karate and Taekwondo champion Ferrari Khalil Faqiri.
The young Preston champ had a phenomenal 2008, winning 16 medals including gold at the Junior Olympic Games in America.
His recent victory came at the World Karate Association English Championship where he fought his way to the top to claim another gold medal.
Ferrari, who narrowly missed out in last years award ceremony, is nominated in the Male Junior Sports Personality of the Year category and will be up against Joshua Shama, a 14-year-old footballer from Swindon who is in his second year of a 4 year schoolboy professional contract with Reading FC, and Azeem Rafiq, 17, who was the youngest ever player to be awarded a professional contract with Yorkshire County Cricket Club.
Speaking to The Asian Today, Ferrari said the award would cap off a remarkable 18 months.
"I feel so honoured to be shortlisted for this prestigious award. The BASA awards really give us sports people the opportunity to showcase our talents," he said.
"Winning the award will mean a lot because it shows people do recognise and look at achievements outside of the bigger sports such as football cricket."
BBC Sports editor and BASA judge, Mihir Bose said the awards were a "great celebration of British Asian sporting talent of all ages".
"This year the standard of talent has been extremely high and I hope the event further inspires others to pursue a career in sport and ensure that we nurture the next generation of sportsmen and women and have solid British-Asian representation at the Olympics," he added.