 Barry Tomes recognised for pro-Muslim CD effort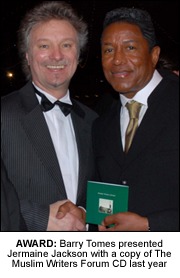 A BIRMINGHAM music boss has been nominated for an Excellence Award by a leading Muslim newspaper for his work on a CD aimed at portraying Islam as a peaceful religion. Barry Tomes, head of Gotham Records, has received a nomination from The Muslim News Awards for Excellence.
He is up for one of fifteen gongs being presented at a Gala Dinner on 30 March.
The nomination comes on the back of the success of his Muslim Writers Forum CD which was released in January 2008.
The CD, which featured a host of collaborations with Muslim artists, was offered free by Tomes in a bid to disprove common negative perceptions of the Muslim community.
Speaking to The Asian Today at the time, the 51-year-old said he was keen to show solidarity with the Muslim community.
"As a Christian I have lived side by side with Muslims all my life in perfect harmony," he told The Asian Today.
"I spent 10 years travelling with western artists to the Middle East and I of course came into contact with many Muslims but I never had any issues. The CD will help people have a view they never had before about Muslims."
The Muslim News Awards for Excellence are led by nominations from readers of the newspaper who are asked to put forward individuals and organisations who have 'demonstrated excellence' in fields including community development and the arts.
In previous years, guests have included Tony Blair, The Prince of Wales, Gordon Brown and Foreign Secretary David Miliband.
Related Articles