 Chandni Chowk to China gets European premiere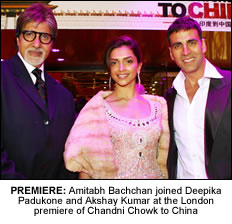 BOLLYWOOD stars braved the cold weather as they stepped out in London for the European premiere of the Akshay Kumar starrer Chandni Chowk to China.
Lead stars Akshay Kumar and Deepika Padukone were joined by director Nikhil Advani and special guest Amitabh Bachchan in Leicester Square.
The Red Carpet hosted an impressive guest list of international VIP's and celebrities, before the stars of the film took centre stage to welcome guests and introduce the film.
Amitabh Bachchan also addressed the audience and expressed gratitude for his personal invitation from Akshay Kumar, to join him at the event.
He said: "I have always enjoyed watching films here in London. I was on a personal visit here, when Akshay Kumar called me at 5am and invited me to watch the movie with him, and I kindly accepted. It is always a pleasure seeing any Akshay Kumar movie."
The film previously hosted premieres in Toronto, New York and Los Angeles.
Chandni Chowk to China kick-starts a busy year for Kumar who has become one of the industry's most bankable stars.
Related Articles: