 'Land Gold Women' first UK film to tackle subject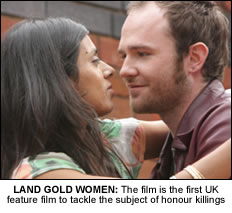 THE PREMIERE of the UK's first feature film about 'honour killings' will take place in Birmingham next month ahead of its national release in the spring.
Shot entirely on location in Birmingham, 'Land Gold Women' follows the story of a British-Asian family caught between Eastern tradition and Western culture.
At the core of the film is the relationship between father and daughter and how the dynamics of it play out when the daughter decides to take her life into her own hands.
The Anglo-Indian collaboration aims to highlight the problems of forced marriage and honour crime, which affect thousands of women in Britain and across the world.
The team that createdthe film was led by Writer and Director Avantika Hari and Producer Vivek Agrawal, both from India.
'Land Gold Women' has already garnered major press attention both in India and the UK for its subject matter.
Speaking on her blog, Avantika Hari said she hoped the film "dispel[s] myths around these (honour) killings and expose the tragedy that a lot of young women face in their own homes."
She adds: "These murders are not condoned by any faith or religion. They cut across culture, economic status, religious belief and education."
The star cast features Hassani Shapi who appeared in the James Bond blockbuster The World is Not Enough, and Chris Villiers of Emmerdale fame.
The lead female role is played by Neelam Parmar who co-created and performed in 'Terrorist! The Musical', which was taken to the Edinburgh Fringe in 2007. 
The filmmakers worked closely with Ashram Housing Association, based in Birmingham, who deal with over one hundred cases of forced marriage every year.