 Brit film still on course to be worldwide hit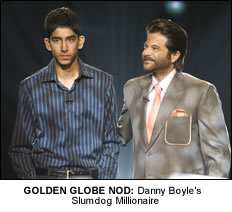 BRITISH director Danny Boyle's film Slumdog Millionaire has scooped four Golden Globe Awards.
The film, which will be released across the UK next month, has already won a host of international awards and has been tipped for a coveted Oscar.
The film was nominated in the Best Picture Drama category while Danny Boyle, the man behind the hit 1996 film 'Trainspotting' was nominated for Best Director.
Bollywood composer A R Rahman was nominated for Best Original Score and writer Simon Beaufoy came in for the Best Screenplay nomination.
An adaptation of Vikas Swarup's critically acclaimed novel 'Q&A', the film stars young British actor Dev Patel, famed for his role in the teen drama Skins, Freida Pinto, and Bollywood icon Anil Kapoor.
Patel plays Jamal Malik, an 18 year-old orphan from the slums of Mumbai, who is just one question away from winning a staggering 20 million rupees on India's ''Who Wants To Be A Millionaire?'  But before he can answer the question he is arrested on suspicion on cheating.
Being his first feature film role and growing up in Harrow in North West London, Patel revealed he was nervous about portraying a character supposedly born and bred in the slums of Mumbai.
Arriving some time before his scenes were scheduled to shoot, he immersed himself in the atmosphere of the locations to absorb the mannerisms and tone.
"I've had to play emotional scenes, physical scenes and it's really taken it out of me," he says. 
"Danny really finds a way to get that right emotion out of you in a scene."
Filmed in Mumbai, Slumdog Millionaire has now become the biggest grossing film to have ever been made in India, even beating Bollywood's intense period drama, Jodhaa Akbar.
Veteran Bollywood actor Anil Kapoor, who plays TV show host Prem Kumar, said the film paid tribute to the country.
"You'll be able to smell India in Slumdog Millionaire, which I feel none of the films that have been made by foreign filmmakers have really been able to capture before," he said.
"The kinds of places where Danny has shot this film I don't think even Indian films have been shot in those kinds of locations."
The film has already made its mark on the international film scene winning no fewer than 17 awards including the People's Choice Award at the Toronto International Film Festival, and Best British Independent Film at the British Independent Film Awards.
Slumdog Millionaire will be released across the UK on 9th January 2009
Related Article: