 Animal charity mends ties with Temple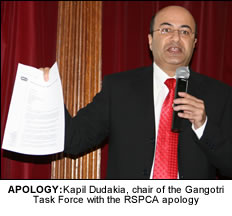 THE RSPCA has apologised to the Hindu community over the killing of a sacred cow at a Watford temple a year ago.
The animal welfare charity apologised for the "hurt and offence" it caused when 13-year-old Belgian Blue-Jersey cross, Gangotri, was put down last December.
The killing of Gangotri sparked criticism after worshippers at the Bhaktivedanta Manor Hindu Temple claimed the RSPCA slaughtered the sacred cow while they were at prayer.
The temple had claimed the Belgian blue-jersey cross was ill but was not suffering from any disease.
The RSPCA, in a statement released at the time, said they had to put the animal's welfare first and had informed temple staff of their decision to put the animal down.
But after a year in which British Hindu's continued with their protests at the way the situation was handled, the RSPCA finally moved to offer an apology and donate a cow to the temple.
A statement released by the charity said: "The RSPCA as a charity will, by all lawful means, prevent cruelty, promote kindness to and alleviate suffering of animals.
"We share the above objective with the Hindu, Sikh and Jain communities and realise that these communities through their faith strive to live in harmony with all creatures.

"The Society, recognising the hurt caused to the sentiments of these communities, and wishing to build a progressive relationship, apologises unreservedly for causing hurt and offence.
"The RSPCA is based on a profound respect for animals, something we share with the Hindu, Sikh and Jain communities and we look forward to working together to promote respect and caring, and to cherish all life."
The Department for Environment, Food and Rural Affairs also published a protocol today which will in future govern animal welfare issues.
Kapil Dudakia, chair of the Gangotri Task Force welcomed the apology.
"The Hindu community was shocked at the events leading to the killing of Gangotri, however, over the past year we have worked steadfastly with DEFRA and also the RSPCA to seek a solution that would address the issues of concern to the Hindu community and also ensure that animal welfare remains a priority for all of us. We look forward to working with both the RSPCA and DEFRA so that such incidents can be avoided in the future."