 Former captain blasts country's politics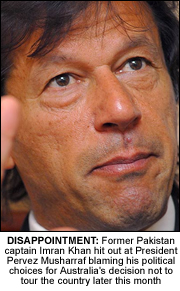 IMRAN Khan has blamed Pakistan president Pervez Musharraf for Australia pulling out of their tour to the country saying his political choices have had a detrimental affect on the nation's favourite sport.
After months of uncertainty Australia finally chose not to tour Pakistan for a series scheduled later this month.
They cited security reasons following a number of bomb blasts in the country since the assassination of Benazir Bhutto last December.
Former captain and now political heavyweight Imran Khan was under no illusion who should take the blame for Australia's decision.
"Musharraf blindly follows the United States in the war against terror and we are paying the price," Imran told AFP. "Because of that we are now at a stage when no one is ready to play cricket here.
"People feel the Australians are unjustified in pulling out, but Australia's decision is understandable as everything that happens in Pakistan is magnified to larger proportions abroad," Imran added.
"Australians don't live here and they don't know that bombings are not aimed at sportsmen but terrorists' targets are specific. No one has ever targeted sportsmen in Pakistan."
Bangladesh look to be the next likely touring side after they were invited by the Pakistan Cricket Board to fill the gap left vacant by the Australians.