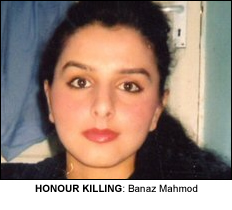 THE INDEPENDENT Police Complaints Commission is to probe whether police could have saved 'honour' victim Banaz Mahmod.
The 20-year-old was murdered by her father and uncle last year after falling in love with the wrong man.
Her father Mahmod Mahmod, and uncle Ari Mahmod, both from Mitcham, south London, were convicted of her murder earlier this month.
Banaz allegedly told police she feared for her life four times before she disappeared from her London home in January 2006.
Her body was found three months later buried in a suitcase in a Birmingham garden.
She had been strangled.
Jurors at the trial earlier this month were not told about a letter sent to the police on 12 December 2005 in which Banaz named three men she believed were going to kill her.
She named Mohamad Hama, who admitted his part in the crime, and Omar Hussein and Mohammed Ali who are believed to have fled the country.
Earlier that month Banaz contacted police directly saying she believed her life was in danger. Officers subsequently visited her home but her mother Behya refused to let them in.
Banaz's boyfriend, Rahmat Sulemani, was also critical of the police saying they had been warned of the danger but did nothing.
Speaking after the conviction of Banaz's father and uncle, he said he was told by officers to "stay quiet" after reporting his girlfriend missing.
"I went to the police station and said to them, 'I am worried about my girlfriend's life'. I told them what happened to me", he said referring to the time he was threatened. "Her parents said that she'd gone shopping. I said 'no way, they are lying'.
"I remember a couple of times police officers said 'stay quiet'. Literally, I was harassing them. I know I felt inside of me that she was gone."
Banaz's body was found three months later buried in a Birmingham back garden.
He said he hoped Banaz's death would lead police to take the crime more seriously.
"I hope that police are going to take this more seriously now because it is a serious thing and it is happening every day in Britain. We just can't accept that here in modern society", he said.
"If somebody's going to go to the police and complain and say they are threatened by someone and they fear for their lives, I just hope that they are going to take things more seriously and do something before it's too late."
Speaking about the internal investigation IPCC Commissioner Nicola Williams said: "I will ensure that our investigation fully examines all contact between her and the Metropolitan Police Service to determine whether anything could or should have been handled differently."
Related Articles: