 Trio's behaviour was 'appalling'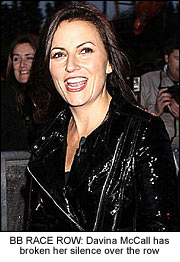 DAVINA McCall has finally broken her silence about the Celebrity Big Brother race row describing the behaviour of Jade Goody, Danielle Lloyd and Jo O'Meara as 'appalling'.
Her comments come as the seventh series of the reality TV show gets into its second week. There were fears the show would be scrapped in the wake of the race row earlier this year in which more than 45,000 people complained over the treatment of Bollywood star Shilpa Shetty.
Television watchdog Ofcom published its long-awaited report into the controversy last week in which it accused Channel 4 of lying to viewers about the use of racism in the house.
Davina, who will quit as presenter at the end of this series, said there was no doubt Shetty was bullied. She also defended herself from accusations that the bullying trio were given easy eviction interviews after leaving the house.
"Jade behaved appallingly, as did Jo and Danielle Lloyd, and there was bullying", she said.
"The Big Brother house is no stranger to bullying tactics but it was always worked through in the end and some sort of justice is usually done. I don't think Jo did herself any favours in the interview.
"Legally, at that time, I was not allowed to have an opinion as to whether or not she was racist – she hadn't necessarily said extremely racist things. It was her collusion with Jade that had got her into trouble, really horrible stuff."
"But I couldn't sit there and say that's racist, because I would be judging and prosecuting her. I think it was just real bitchy naivety on their parts. They were silly, bitchy girls. I think girls have a tendency to be like that."
Channel 4 was forced to issue an on-air apology to its viewers before latest series of the show kicked off on the channel last week.
The Ofcom report it contained damaging evidence against Channel 4.
It highlighted several segments of television footage that contained racially sensitive material which was not aired.
In particular it referred to a late night limerick game in which Jade Goody, Jack Tweedy Jo'O'Meara and Danielle Lloyd used rhyming sentences implying the word 'paki'.
Although the word was never used Jo O'Meara was called into the Diary Room and given a warning for urging potentially racist language.
Channel 4 had said the limerick game was missed by researchers and that senior management was not alerted to it until three days later.
While the piece was never aired there were serious accusations that the Channel lied to viewers over the existence of racism in the house. They continued to deny this despite having already issued a warning to O'Meara over the limerick game.
Ofcom said Channel 4 had committed a "serious error of judgment" and breached its code on four occasions. It also criticised the broadcaster for not responding fast enough to the outrage it caused viewers.
The following is a transcript of a late-night limerick game between Jade Goody, Jo O'Meara, Danielle Lloyd and Jack Tweedy. It was never broadcast and Channel 4 claimed it did not know of its existence until 3 days after. Channel 4 continued to deny the existence of racism in the house – even after this limerick came to light.
The 'Limerick'
Jo: There once was a house that was happy.
Jade: I've got a great one, but I'm not allowed to say it.
Danielle: Why? Why? I want to know.
Cleo: She can't if she can't say it.
Jo: There once was a house that was happy, 'mi ni mi ni mi ni mi ni' and then there entered…
Cleo: You're all going to go to Big Brother prison.
Danielle: How do you know what –
Cleo: And you're going to need me –
Jo: But it ends with a nappy. What's wrong with you people?
Jack: But if you say, 'Along came some people who were tacky'.
Jade: There once was a house that was happy, until…
Jack: They made it really tacky.
Jade: Until there entered a… Until there entered a…
Jo: Strappy… Strap-on.
Jack: Strap-on
Jade: No, no, no, there once was a house that was happy…
Jo: Until someone got yappy.
Jade: Yes. There once was a house that was happy, until someone got yappy.
Jack: She nearly killed everyone with a chicken.
Cleo: But everything ended up finger-lickin'.
Jo: Now you've got to do something that rhymes with a nappy.
Cleo: Oh, God, don't give that to Danielle, for God's sake.
Danielle: And it all ended up – Being crappy.
Cleo: Oh, dear me.
Jo: Right.
Danielle: That could have been rather disturbing, that.
Jo: That was a good one.