 Chappell urges players to 'get over' defeat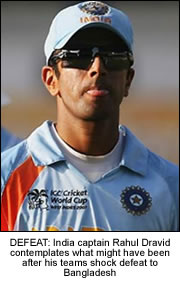 INDIA cricket coach Greg Chappell urged his players to put aside their shock defeat against Bangladesh and save their World Cup dream.
His team were beaten comprehensively by their South Asian neighbours Bangladesh by five wickets in what was another major upset in the opening round of the tournament.
India face an uphill struggle to qualify for the Super 8 phase even if they beat Bermuda and Sri Lanka.
Not only do they have to record convincing wins, they also have to hope some results go their way in the hope of progressing in the tournament.
Coach Greg Chappell warned his team not to dwell on the loss and concentrate on winning their remaining matches.
"If we start panicking about what might go wrong, then we won't play well", he said.
"We've lost games before and we've bounced back and won games. This team has a resilience about it that is quite remarkable and I expect them to bounce back", he added.
Reaction to the loss in India saw effigies burnt while some irate fans stoned Mahendra Dhoni's house after the defeat.
But Chappell, who has had his fair share of run-in's with the Indian fans, brushed aside reactions in India to the defeat.
"I haven't heard about the reaction but I can imagine", he said. "You can lose games, you can get knocked out of tournaments and that is a possibility.
"You can't worry about the outcome. You've to look to playing good cricket in two matches. That is what our aim is."