 Fallout begins as Pakistan crash out of World Cup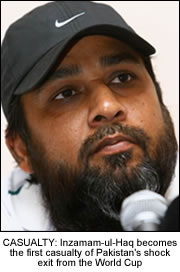 PAKISTAN captain Inzamam-ul-Haq became the first casualty of the team's dramatic exit from the World Cup after he announced his decision to quit as Test captain and retire from one-day cricket.
He revealed his decision just hours after the Pakistan team and the cricketing world tried to come to terms with the sudden death of the team's coach Bob Woolmer.
The team were still reeling from their surprise exit from the competition after losing to Ireland by three wickets.
They had already lost their first game against the West Indies on the opening day of the tournament and the shock loss to Ireland meant the team were going home early.
Their final game of the tournament will be against Zimbabwe after which the Pakistan team will look to appoint a new captain.
"I have talked with my father on the phone," he said, "and have decided to retire from one-day cricket after the Zimbabwe match.
"I am very happy with the support I have received over the last three or four years as captain.
"I don't think it will really be a big challenge to find a replacement for me," he added. "We have some good senior players and players with a lot of experience. They will do better than me and achieve greater things than me."
Reaction to Pakistan's loss against Ireland was greeted with angry scenes from a selection of fans in Pakistan who burnt effigies of Inzamam and officials from the team. Inzamam himself described
the team's elimination from the tournament, as "the worst day of my cricketing career".
Related Articles: