 The couple who became friends,met for the first time & got married all in 7 days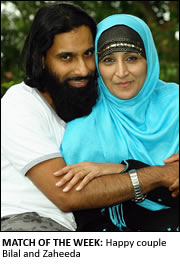 THEY say it takes years to find the right marriage partner – but for one Muslim couple it took just seven days!
Bilal Abubaka, 39 and Zaheda Novsarka, 40, underwent their Nikkha just seven days after exchanging e-mails on the online matrimonial site SingleMuslim.com.
The couple's whirlwind courtship and subsequent marital union has now become the sites fastest marriage yet!
Father-of-three Bilal, a manager for a pharmaceutical company in Barnsley, and Zaheda, a mother of five from Coventry, admit they "clicked" after their first exchange on the popular marriage website.
"We found out we had a lot of things in common – how we would want a relationship to be – and it felt as if we should have been together for 20 years!," admits Bilal.
After their first exchange of e-mails one Saturday evening the couple spoke frequently on the phone before Bilal took the plunge and drove to Zaheda's family home in Coventry four days later to meet face to face.
But it wasn't all plain sailing, as the couple admit.
"I drove down to meet Zaheda on the Tuesday and she kept me waiting for an hour and three quarters! She was in two minds whether to come or not," said Bilal.
"I eventually picked her up from outside her house and when I saw her, I thought this is it!"
For Zaheda, an OFSTED Inspector, there was more to consider – the impact of letting Bilal into the lives of her five children.
She admits she was scared; even making up excuses not to go as Bilal waited patiently to meet her outside her home.
"I was trying to get ready but then coming out with excuses not to go," said Zaheda. "When you have children, you hesitate when it comes to involving another person in their lives."
But for the couple it was definitely love at first sight and just days later they were married!
So what led the couple to seek love online?
Both Bilal and Zaheda were divorcees with children. The couple turned to SingleMuslim.com following recommendations from friends.
"I started thinking that I'm getting older; I'm not going to get my ideal woman," admits Bilal. "You just have to accept that we're not living in an ideal world – you're divorced, you've got kids and how many people will accept that?"
For Zaheda she vowed her stint on the website would be her last – and it turned out to be just that.
Today the couple look forward to a life of happiness -although there is one hurdle they have to overcome. Both Bilal and Zaheda have yet to tell their families they are married!
"I told my brother I was on the website. He wasn't happy that I was going out there and "exposing" myself and said that it wasn't good for the children," said Zaheda. "I asked Bilal to keep it quiet and now, after the Nikkah, how do I tell people in my family?"
Bilal adds: "My family members still don't know I'm actually married because that's the way Zaheda wants it. One day we'll tell them and I'll handle it. The kids are the most important factor in this; they should come first. For now we just want to live together, build our bond and, once it's strong enough, it doesn't matter what anybody says."
Building a life together often throws up problems, but for Bilal and Zaheda it's all part of their journey.
Work and access to his three children means Bilal has no other choice but to stay in Yorkshire for the time being, while Zaheda remains in her Coventry home.
"We are not only compatible but we complement each other," explains Bilal. "She is in Coventry and I'm in Batley near my kids, who visit me Fridays and Saturdays. This is the way she wanted things and the way I wanted things. I didn't want her to move to Batley and she didn't want to. I'm happy to come to Coventry. It's short term but it's the perfect thing for now. "We can develop our relationship and have time for the kids. These are the kind of compromises you have to make as divorcees but I think that puts us in a much better position."
For now the couple continue to pinch themselves after being struck by cupids bow.
"I never thought that I could feel like this and, at my age, find someone that I could get along so well with," says Zaheda. "And he gets on so well with the kids. Masha'Allah, they just adore him."
And for Bilal, the feeling is very much mutual. "From day one I realised what a wonderful person she is. She is perfect in so many ways. And the package that comes with her is so brilliant. Allah has gifted me with these kids. It's amazing. I wouldn't have it any other way. And to find this kind of relationship on the internet – wow!"