 Birmingham man appears in court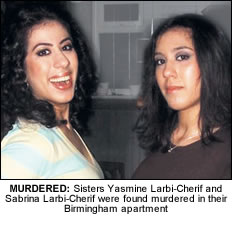 A 28-year-old man has appeared in court charged with the murder of two sisters found dead in their Birmingham flat.
Yasmine Larbi-Cherif, 22, and Sabrina Larbi-Cherif, 19 were found stabbed to death in their apartment on the Jupiter Apartments complex near the city centre last Monday.
Mohammed Ali, of Old Snowhill, Birmingham, spoke only to confirm his name and address at Birmingham Magistrates' Court.
There was no application for bail and he was remanded into custody.
He will appear at Birmingham Crown Court on Friday.
A statement released by the girls' family said: "The family have been devastated by their deaths of their 'angels'. Both their mother and father were extremely proud of the way in which the girls lived their lives, working and studying hard, as they had been brought up to do."