 Ex-bowler resigns as bowling coach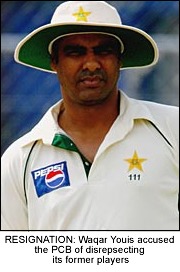 PAKISTAN bowling coach Waqar Younis and the Pakistani Cricket Board have begun a war of words after the former bowler shocked fans by handing in his resignation.
Younis, who was assigned as bowling coach for the Pakistan team in March 2006, quit his post in anger at the PCB's decision to retain him only for the current Test series against South Africa and not the ODI series.
The 35-year-old, who was one of Pakistan's most prolific bowlers, accused the PCB of not respecting their former players.
"If I am not needed for the ODIs then I don't want to do the job", he told reporters.
"The board doesn't respect its ex-players properly."
He continued: "In the past too, the PCB sacked Javed Miandad in the middle of his contract while the present chairman axed Mushtaq Ahmed barely hours before the team's departure for the ICC Champions Trophy last November. And now his attitude has been downright insulting, leaving me no choice but to resign."
Younis handed in his resignation on his return to Pakistan after undergoing the Hajj alongside former player Saeed Anwar and Mohammed Yousuf.
Responding to Younis's criticism, the PCB hit back accusing him of acting in an "unprofessional" manner.
"Waqar has behaved in an unprofessional manner and has resigned as Pakistan's bowling coach in a burst of anger. The PCB has accepted his resignation," Ehsan Malik, PCB's director communications, told The News.
"Waqar went on unauthorised leave which was against the terms of the contract he had signed with the PCB. That shows his unprofessional approach towards an important job," he added
Malik also questioned Younis's contribution to the ODI side, calling it "minimal".
"According to the contract signed by Waqar, the PCB has the right to include him in the team management whenever his services are required. The PCB prepares performance reports of all of their coaching staff and according to one of those assessments, Waqar had contributed very little as far as ODIs were concerned."