 Anuradha Vakil on creating the look for Saawariya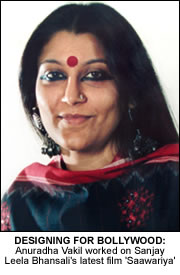 ANURADHA Vakil is one of India's most unlikely designers. Armed with a Masters' in Business Administration from Michigan, in the U.S., she initially worked for a large corporation. She left that world taking the skills she had learned to a new career in design driven by her passion for Indian textile crafts. For the past 12 years, through her entire body of work, epitomized by the name of design company, Noor, she has striven to remain at the forefront of contemporary fashion.
Anuradha designed the costumes for the two female actors Sonam and Rani Mukherjee. The ace designer, Anuradha Vakil, shared her thoughts on her work on Sanjay Leela Bhansali's "Saawariya."
What was your first thought when you were told that you were going to be working on a Sanjay Leela Bhansali film?
Initially there was hesitation, I have to admit. Largely, because I did not see my work fitting in to the genre of commercial films. I am known for my work in fashion which is deeply rooted in crafts. One doesn't see that in mainstream cinema often. But, I was also acutely aware what a visionary SLB is. Having admired his work always, my instinct told me to trust this great artist. I went for the first meeting and was bowled over completely!
Tell us something about your work on SLB's "Saawariya?"
I took on "Saawariya" because of Bhansali. He is a fine film maker with an artistic vision. Music, dance or clothes, his taste is classic. And I was certain he wouldn't expect me to dilute my sensibility for the sake of his film. My work involved creating clothes for Sonam Kapoor, the female protagonist. I did mainly stark clothes with touches of embellishment. I had to stick to black and inky tones. Being a trained classical dancer and musician, the fringe benefit of working with Bhansali was that I could sit through the shooting of the song sequences. So, I didn't see it as a business opportunity, but as an enjoyable working experience.
What was the brief given to you about Saawariya by SLB?
When I read the script, I could connect emotionally to the story. I could see why SLB was so charged about it. And I knew that he would tell this story in his usual, lyrical way. SLB would describe his characters with great intensity, giving me the complete emotional landscape. He would tell me about the vulnerability and innocence of the character of Sakina. He would also describe in great detail the turmoil she goes through. With great passion, he would talk about Gulab, the prostitute's character too. And I began to see the characters through SLB's eyes.
How did you as a fashion designer interpret his brief into clothing?
The color palette was derived from the look of the movie and the silhouettes came from Sanjay's and my common love for kathak and appreciation of Islamic arts and culture. I have used a lot of antique fabrics and weaves like appliqué, ikat and kalabootan embroidery. A lot of thought and effort went into creating Rani's look. She's a woman who loves attention, likes to be noticed…and her clothes had to reflect that. Most of all, we wanted the costumes to be artistic and more importantly, quiet and subtly enhancing the visual beauty, without overpowering the frame. The quality of timelessness in the narrative had to be reflected in the costumes.
What was your biggest challenge?
I had this antique white/red/ black odhna and Sanjay loved it on sight and said he would use it in a major song sequence. Then his production team called me and told me that since it would be used in a boat song, I would have to have a duplicate ready in case the original got wet! How on earth do I get duplicate of an antique piece?" she exclaims in mock horror. It took her four months and all her contacts to source out a "similar, if not exact' odhna!
How was your experience of working on the film, from a fashion designer's perspective?
As a fashion designer, you are used to having complete creative control. You can indulge all your whims and can afford to get carried away. But, for a film, you have to create within certain boundaries. You need to do what is appropriate for the characters, the film and be in sync with the director's vision. In fact, all through out this journey, I chose to see SLB as the master painter and myself as an apprentice who only mixes the colors!
With SLB, the process of being on the same page, in terms of aesthetics, was very natural and unselfconscious. Our common passion for Indian classical art forms was an important element, as a lot of our reference points were the same. Also, very generously, SLB gave me glimpses of all artistic aspects of the film. And all these things enabled me to see the larger picture, indeed. But above all, he gave me the freedom to speak my aesthetic language, never asking me to dilute it.
For me, the creative process is always as important as the creation itself. I have learnt to look for as much meaning in the journey, as I do in the destination. And I am glad this turned out to be a creative journey I will cherish forever.
How did you react to working on a love story in today's fast paced world?
Deep down, I am a romantic. Not in the clichéd sense of the word, but certainly believing in 'quest for true love.' And that is the constant thread that runs through all of SLB's films. Perhaps that is why his work touches me to the core. "Saawariya" is a tale about love, about the pain of losing or letting someone go. I believe these things are eternally relevant, regardless of the pace at which the world is going.  
How was the experience of working with newcomers – Ranbir & Sonam?
It's been a joy being with these two kids. Both of them are supremely talented and focused; very well brought-up and respectful too. Most importantly, both of them are fully aware of how fortunate they are to be learning from the master of this craft. And I know for sure that wonderful things are waiting for them with release of "Saawariya." 
Your most favorite scene from the film?
I have not seen the film yet. But, I am sure I will not have one but many favorites, as always with SLB's films. On second thought, perhaps this film will be too close to my heart. I might never be able to pick out favorites with this one!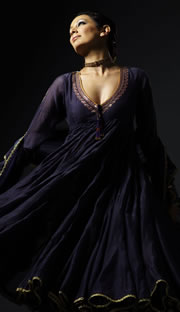 Music has always been a high point in a Sanjay Leela Bhansali film. What is your take on the music of "Saawariya"?
Here, I have a confession to make. The biggest temptation when taking on this project was the thought that I would get to see how this man creates his music! And perhaps knowing this desire I had, SLB always invited me to be a part of it – whether it was recording of a song or shooting a dance sequence, and I truly felt privileged to be there. It has been a revelation for me to see how involved SLB is with creation of music. Now I know how immortal music like albela sajan aayo ri and kahe chhod chhod mohe must have been created! From Saawariya, I love thode badmash immensely. And jab se tere naina is a close second.
And what according to you stands out or is the unique selling point of the film?
For the discerning audiences, it is enough that it is a SLB film. That is the unique selling point itself! Besides, SLB's work has evolved with each of his films. And audiences will always be eager to see his next feature.
Now a little bit on Sanjay. What is your favorite Sanjay Leela Bhansali film and what according to you is the reason for magic on screen created by SLB?
Undoubtedly, khamoshi….it has simplicity and a feel of innocence about it. The characters of Nana Patekar and Seema Biswas are etched in my mind forever. The performances were superlative! When you watch the film, it is hard to believe that this was SLB's first piece of work.
Saawariya is released nationwide on 9th November