Rajah launches a new Heat & Stir range to help mothers give their family the authentic taste of home, even when they have no time to cook
Majority of the women (82%) found the Tadka Dal and Dal Makhani to be flavoursome and fresh and were pleased to know this was achieved with no artificial flavourings or preservatives.
Majority mothers said they would use it as one of their families five a day
Fresh spices and no preservatives make them want to try the product
Everyone has that kind of a day when all you want to do is get home and settle down onto the couch with a meal that you haven't had to cook. But when you are looking for a quick fix and do not want to compromise on the authentic taste of home for your family what do you do?
Rajah Spices understands the needs of modern day working mums and busy working women who strive to strike the balance between work and home. Juggling responsibilities of a hectic lifestyle and ensuring her family gets delicious and nutritious food at the same time is no mean feat, which is why Rajah Spices has launched their new Heat & Stir range of dals.
While cooking from scratch is always the first option, in a nationwide research exercise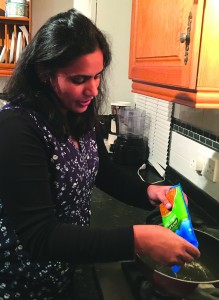 undertaken recently by Rajah Spices among South Asian women across the UK – 75% of them said they would like a quick fix which would give them the authenticate taste of home, so the Rajah Heat & Stir's Dal Makhani and Tadka Dal have become their new cupboard essentials! Majority of the women (82%) found the the Tadka Dal and Dal Makhani to be flavoursome and fresh and were surprised this was achieved with no artificial flavourings or preservatives.
28-year-old Niharika Singh from Hounslow said: "When I got married and came to London, one thing I missed was my mum's dal. I tried to recreate it many times but the process was cumbersome and after a long day at work all I wanted was an easy fix. The Rajah Heat & Stir Tadka Dal reminded me of my mum's cooking and made cooking for my family on weekdays much easier and tastier."
32 year old Khyati, a busy working mum liked the taste of Dal Tadka she said, '' I didn't feel the need to add any extra seasoning or spices, all I did was just added some water and served it with steamed rice''
Kirti, a busy working professional from Pinner said that, '' The best part was that both the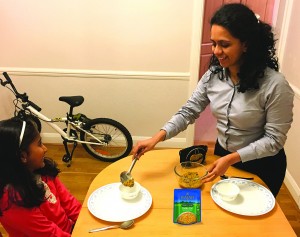 ready to eat packs tasted like home made products, all I did was add in a pinch of salt. It tasted good with both rotis and rice.''
The Rajah Heat & Stir products are made from over 18 individual herbs, spices and ingredients, with no preservatives, the one thing that drew the attention of a lot of mums was that it a tasty source of fibre and helped them achieve one of their family's five a day.
Speaking about the products, spokesperson from Rajah, Senior Brand Manager said, Jonathan Somers said, "At Rajah Spices we are constantly evolving and looking at products and innovations that match the needs of our audience. We understand that cooking a traditional meal from scratch can be time consuming and sometimes even mums need a break, which is why we introduced Rajah Heat & Stir's Tadka Dal and Dal Makhani, to give that authentic taste of home in a couple of minutes."
Top tips on how to make your Rajah Heat & Stir even more tastier
After speaking to mums across the country, here are some simple tips to make Rajah Heat & Stir's Dal Tadka or Dal Makhani taste even closer to home:
For the calorie conscious, stir in some low fat Greek yoghurt to the Dal Makhani to give it that extra creamy texture.
Add some chopped tomatoes to the Dal Tadka and some fresh coriander leaves for the perfect garnish.
Add some finely chopped red onions to the Dal Makhani and a tiny pinch of red chilli powder to create a zing.